© Local AU Warehouse-Fast Shipping Within 3-7 Bussiness Days
© One Year Hassle-Free Warranty & 14-Day Return Service
© 100% Secure Checkout & Lifetime Customer Support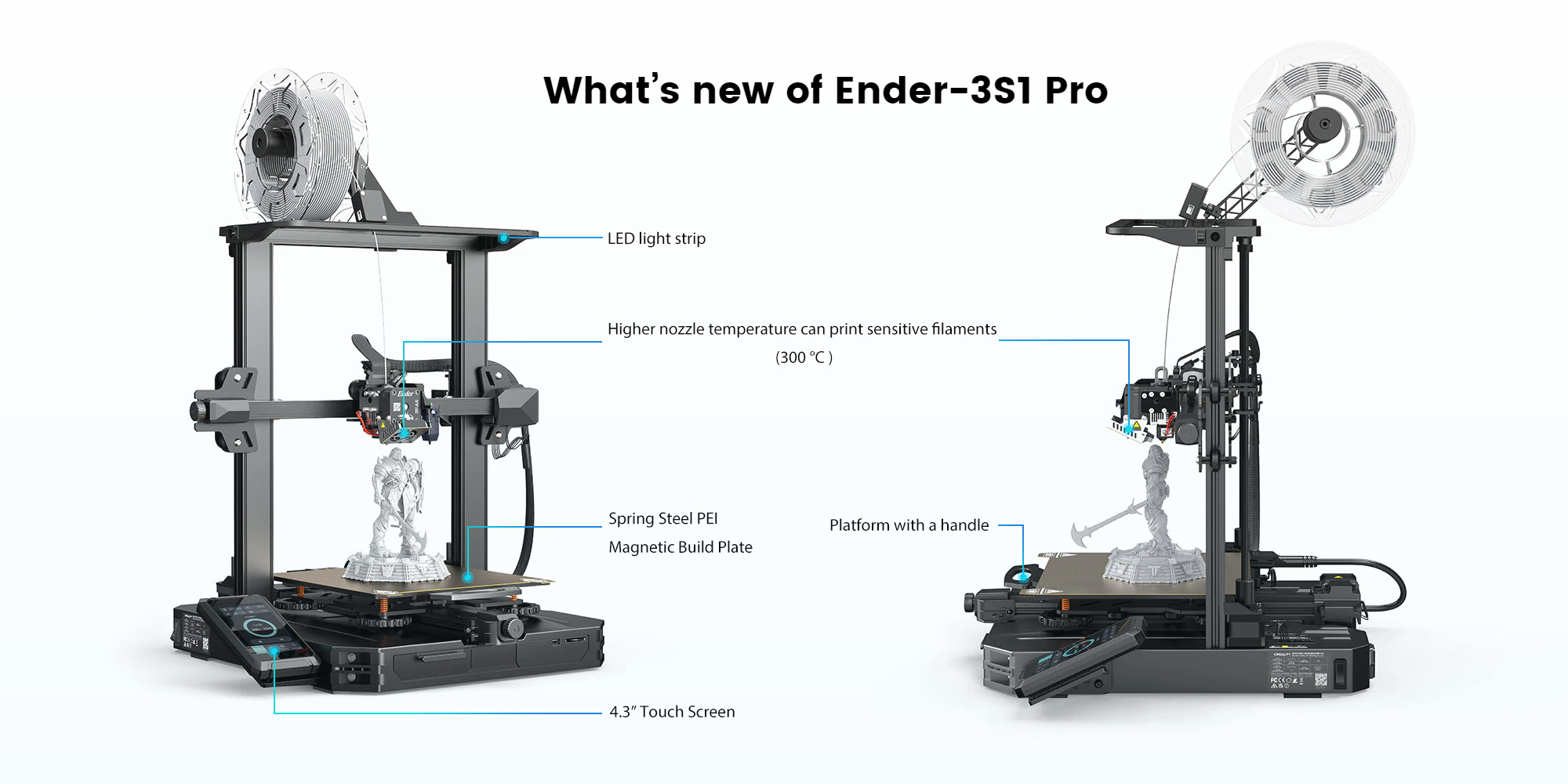 Creality Australia Ender 3 S1 Pro 3D Printer :
A new and improved version of the very successful Ender 3. Equipped with a newly developed direct dual-gear extruder, automatic bed leveling, 32-bit silent mainboard, among other things, the S1-Pro is a very affordable printer with everything you could wish for at this price point.
Sprite Full-Metal Direct Drive Extruder with dual gear
Ender 3 s1 and Ender 3 S1 Pro use direct-drive extruders. The distance is shorter in a direct drive and the retraction too.   Ender-3 S1 Pro upgrade to full-metal dual-gear direct extruder with an extrusion force of 80N ensures smooth feeding when printing with different filaments. especially the flexible TPU. 
Up to 300℃ high-temp printing support multiple filaments.
It's compatible with multiple filaments, such as PLA, ABS, PVA, Wood, TPU, PETG, and PA, providing more possibilities for creation.
Spring Steel PEI Magnetic Build Plate
It can handle high temperatures a lot better than the one used in Ender 3 S1. You can easly remove it if you want since it gets attached to magnetics well. It is compatible with ASA, TPU, PLA, Wood, PETG, PAHT, SILK as well as other types of filaments. It removes all the small issues you have while printing. It trully takes no effort to take out the print -when printing is over, you simply bend the base and the model detaches itself from it.
4.3-Inch Touch Screen & LED Light
The 4.3-inch touch screen, supporting 9 languages, offers efficient UI interaction and is easy to use. It will dim out automatically for energy-saving if there is no action for 3 minutes. The equipped LED light enables comprehensive light fill, with which users can observe the printing details even in a dark environment.
Creality Ender 3 S1 PRO Review
Ender 3 S1 & Ender 3 S1 Pro in comparison
| | | |
| --- | --- | --- |
|   | | Ender 3 S1 Pro |
| Build volume | 220x220x270mm | 220x220x270mm |
| Printer size | 487x453x622mm | 490x455x625mm |
| Extruder | Sprite Direct Drive Dual Gear | Sprite Direct Drive Dual Gear |
| Max. nozzle temperature | 260ºC | 300ºC |
| Max. heatbed temperature | 100ºC | 110ºC |
| Weight | 9.1kg | 8.6kg |
| Interfaces | USB-C / SD | USB-C / SD |
| Filament sensor | Yes | Yes |
| Dual Z-axis | Yes | Yes |
| Automatic levelling | Yes | Yes |
| Motherboard | Silent motherboard, 32-bit | Silent motherboard, 32-bit |
| Screen | 4.3 inch screen with button | 4.3 inch touch screen |
| UI language | Chinese, English | Chinese, English, German, Spanish, French, Italian, Portuguese, Russian, Turkish |


Best Sellers
SPECIFICATIONS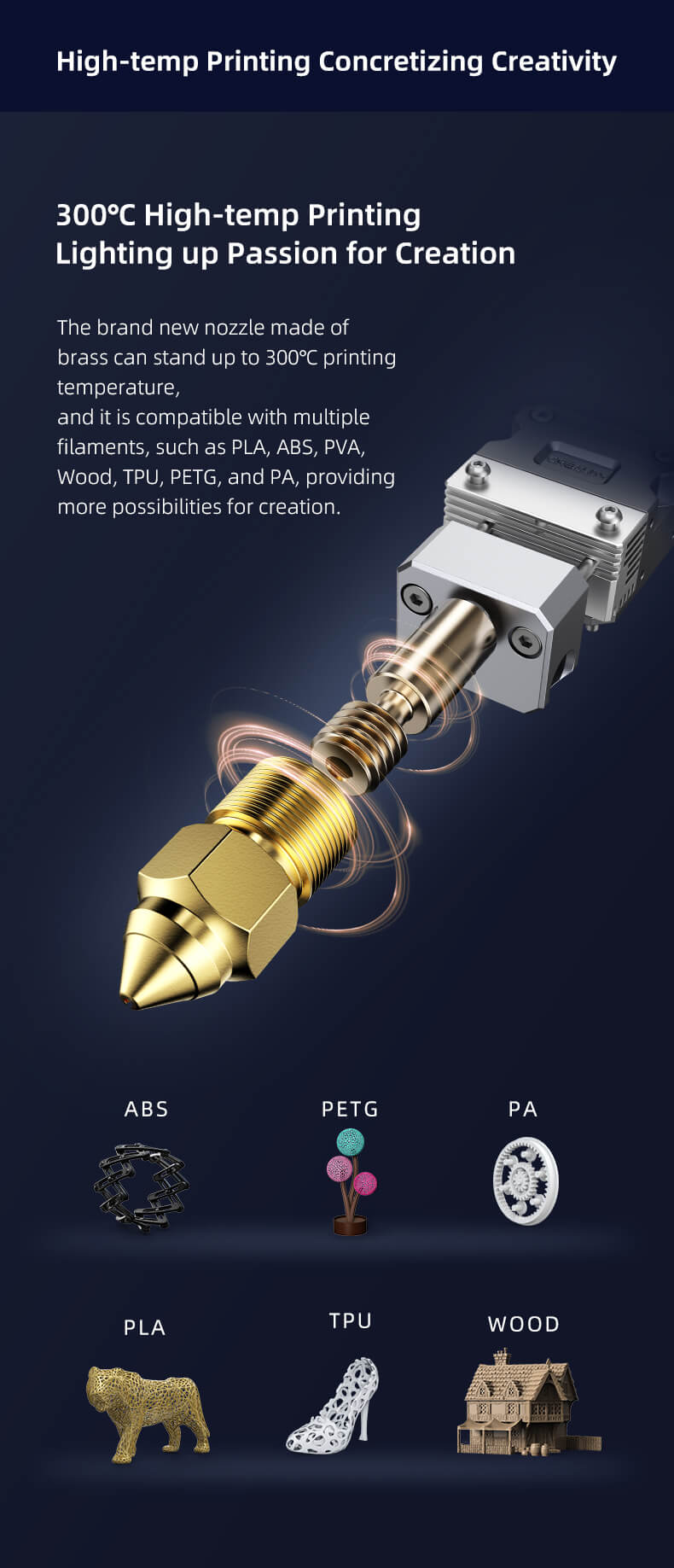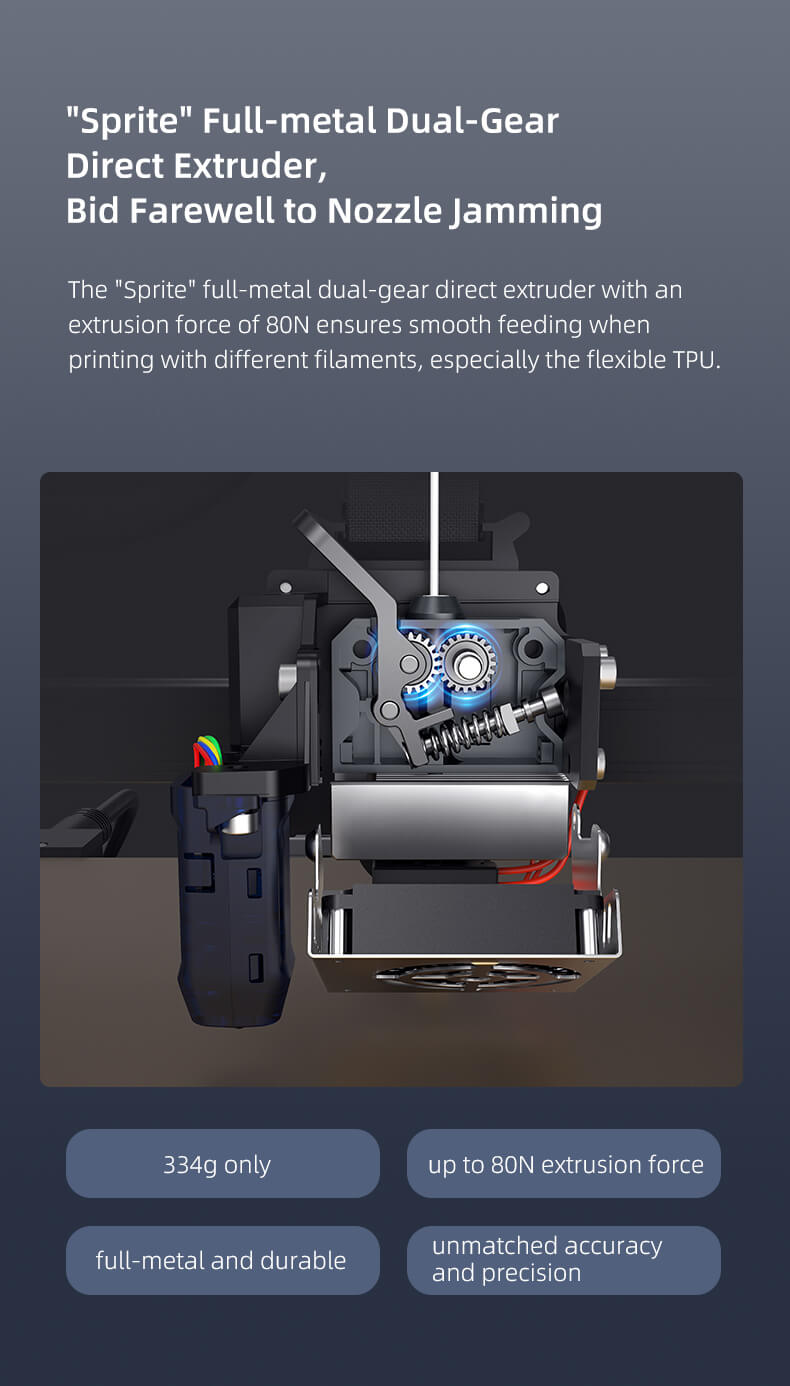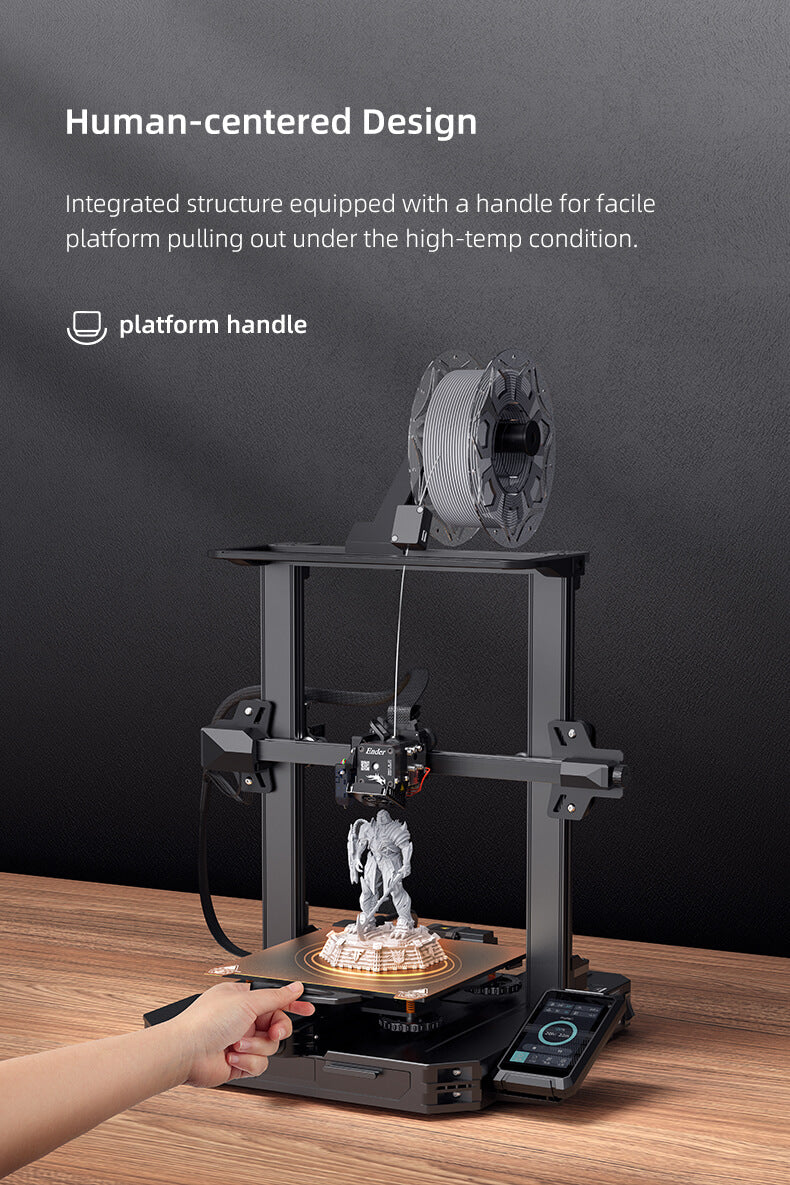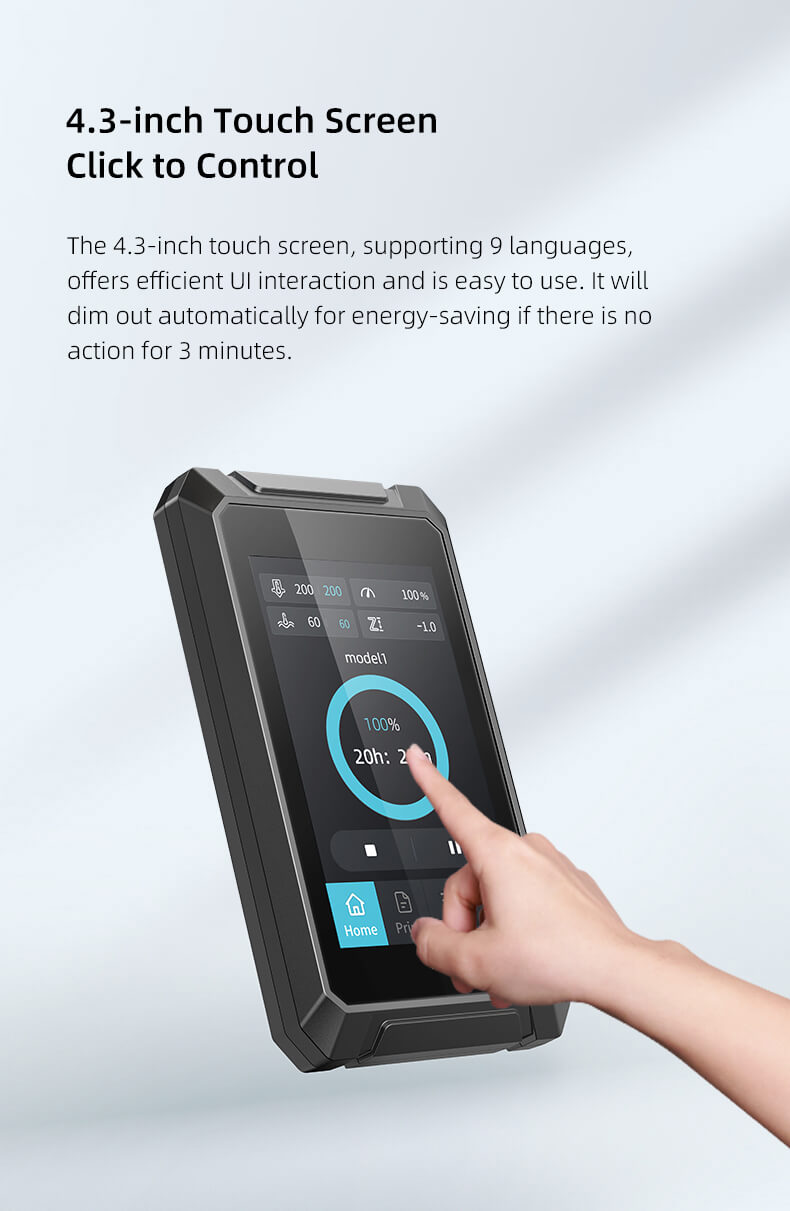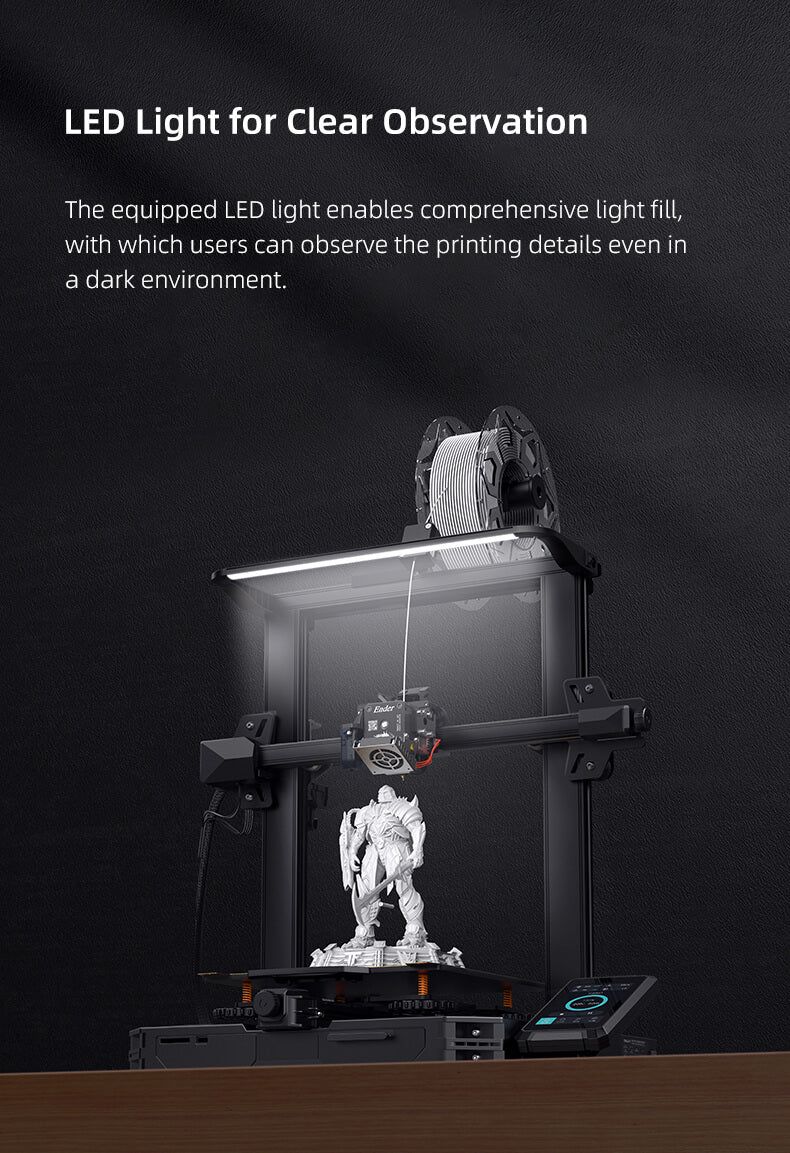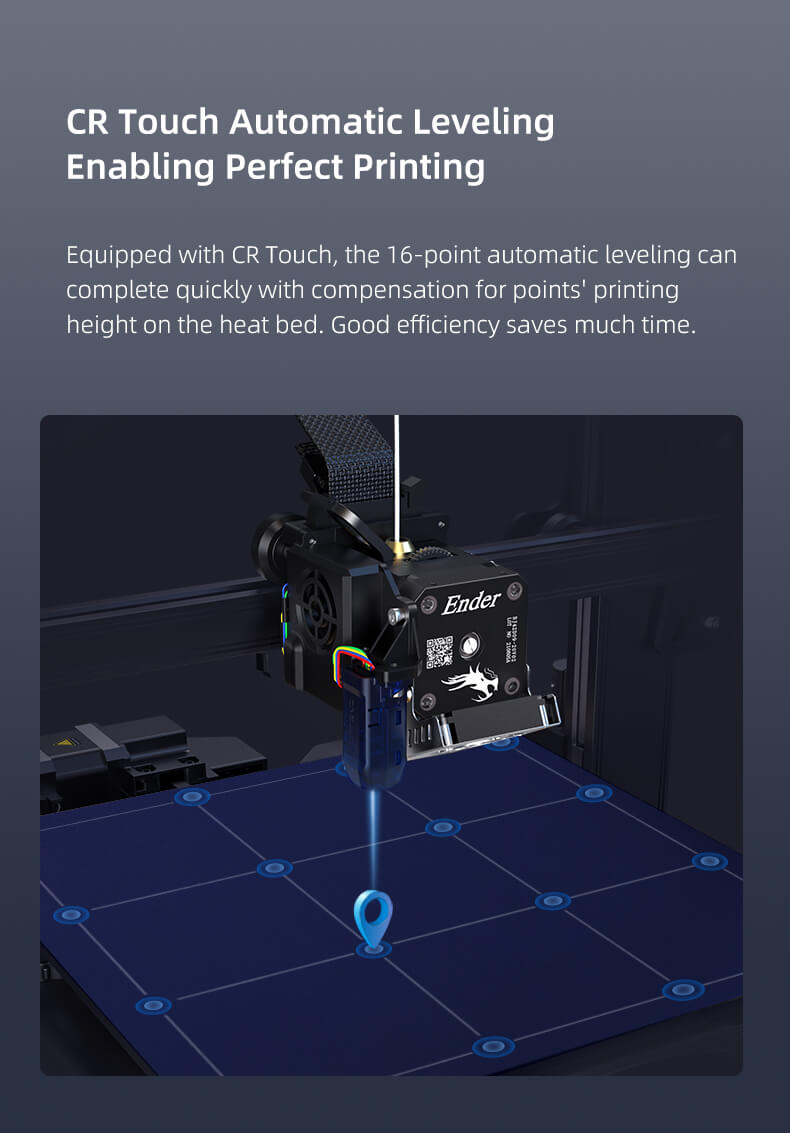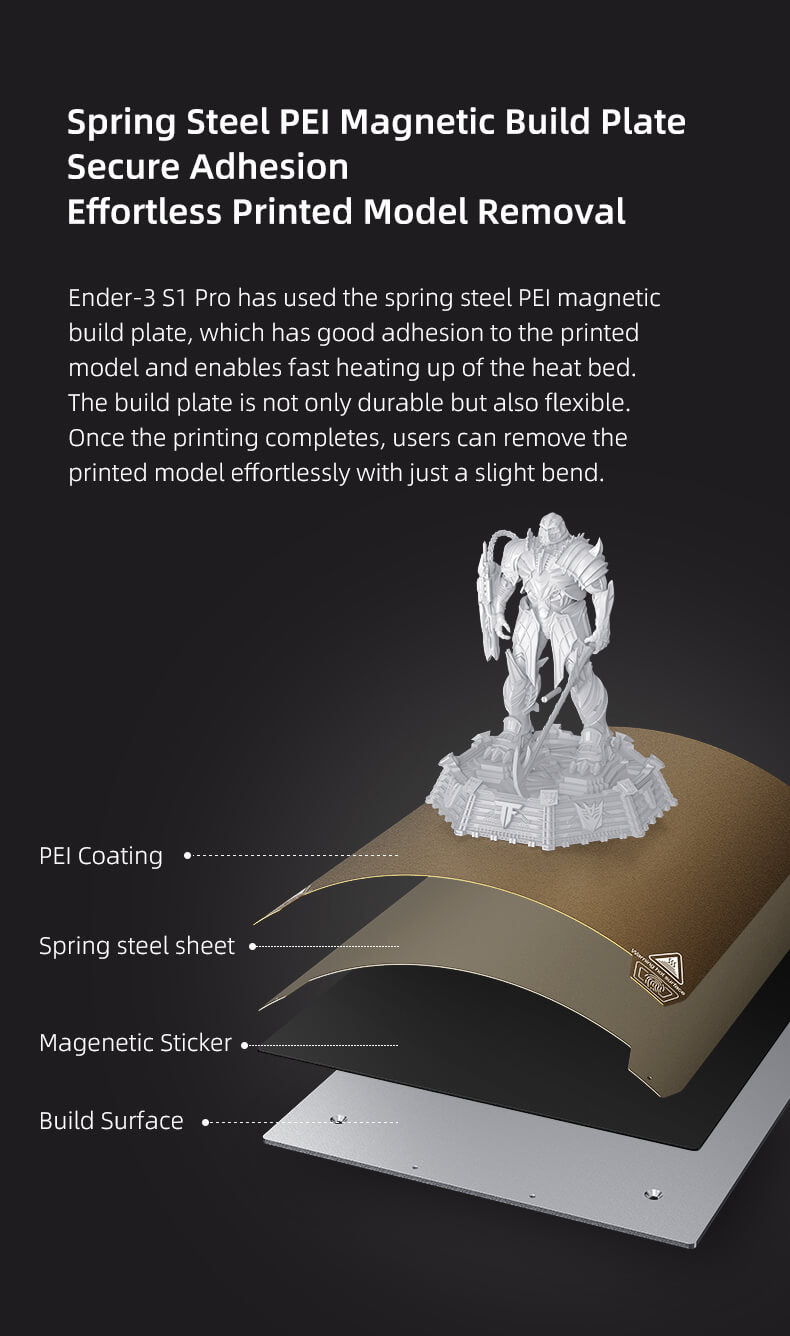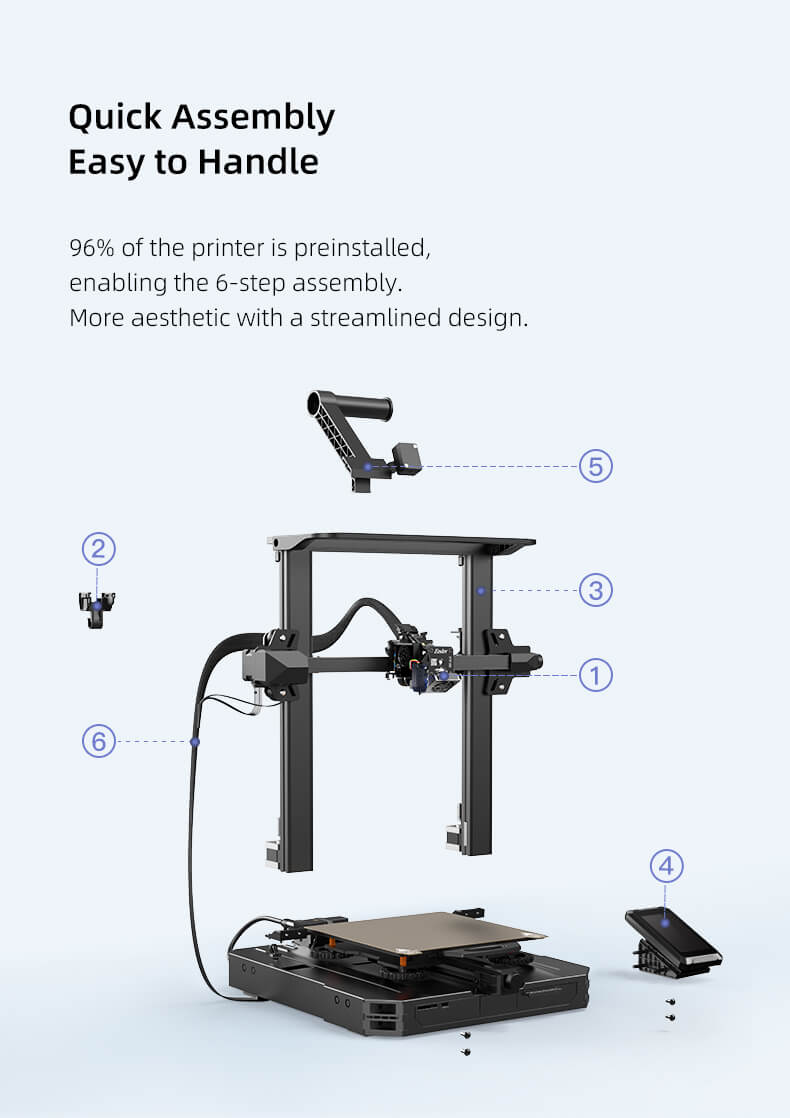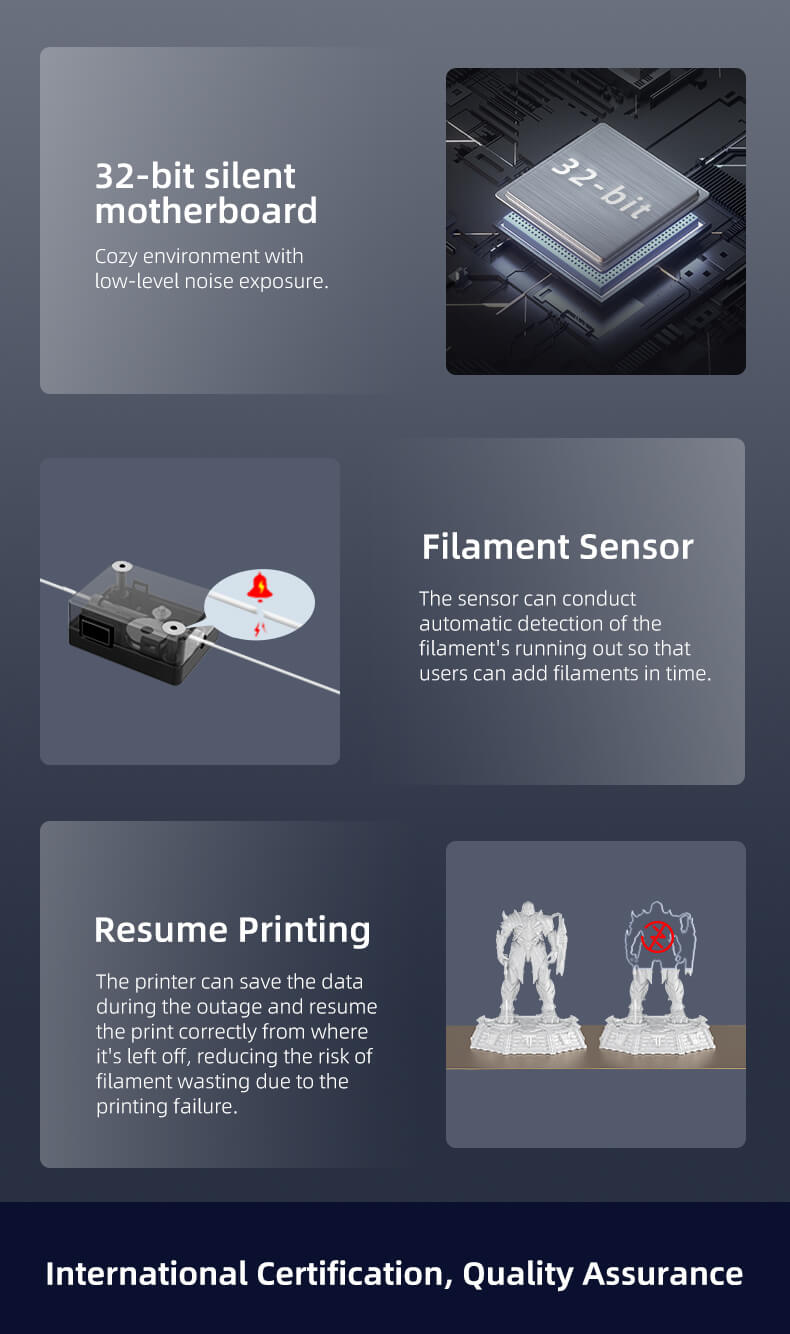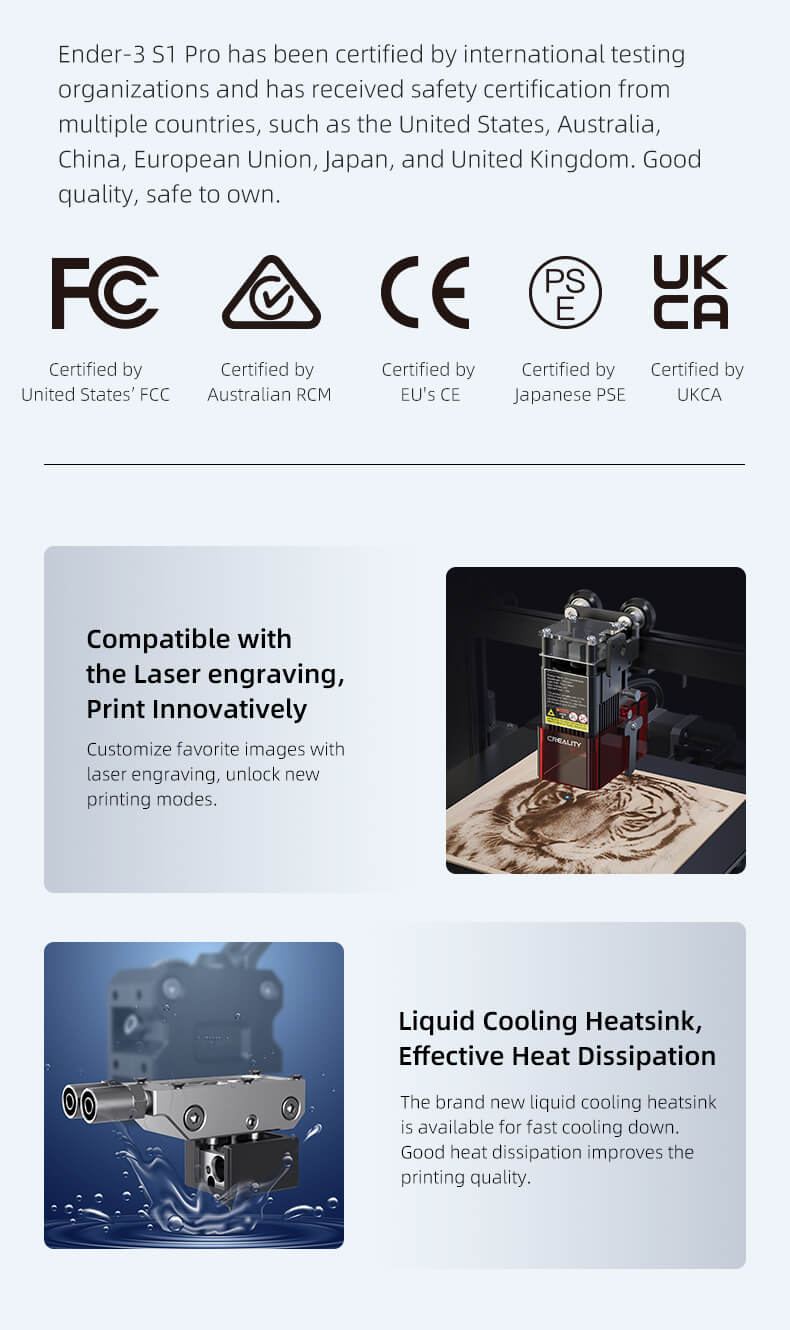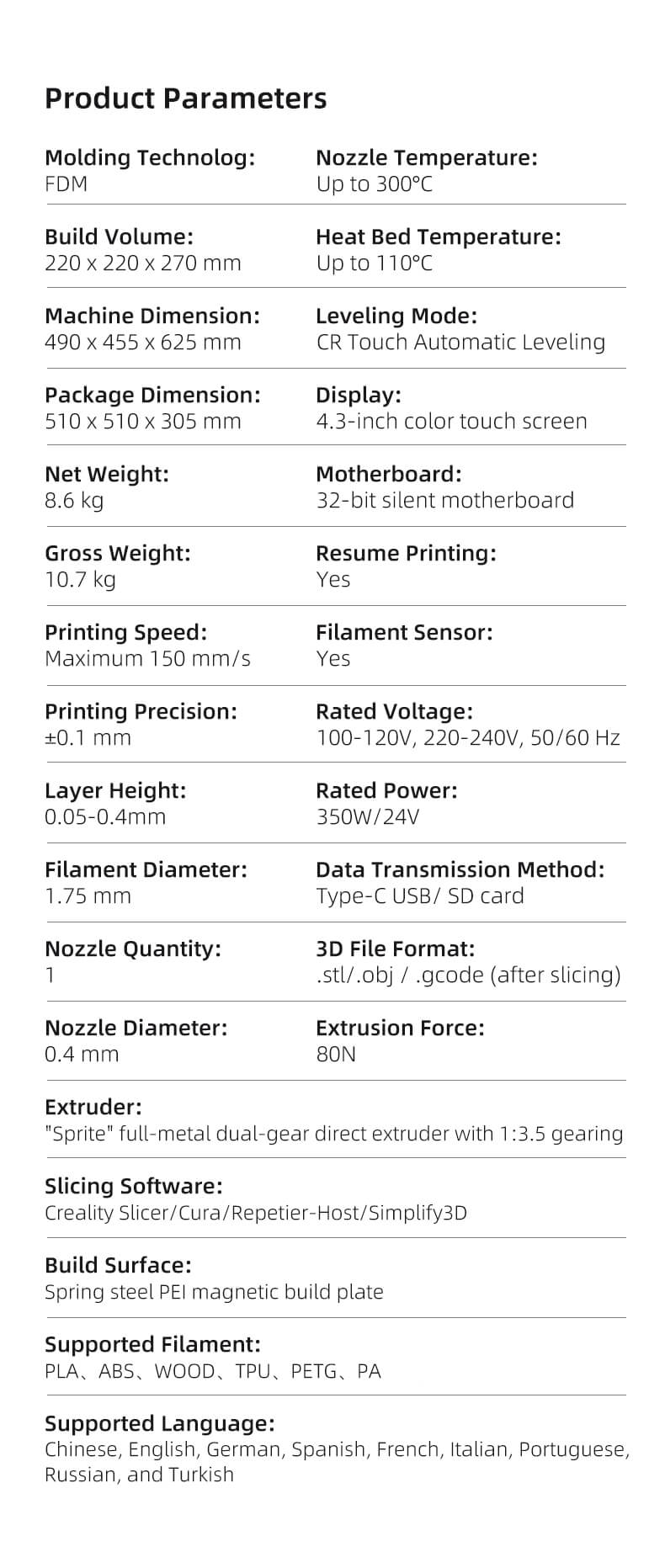 FAQ
Q: How long does the printer assembly take?
Ender-3 s1 pro is 96% pre-assembled.
Generally, the printer can be assembled in 5-20 minutes.
Q: Where should the consumables rack be fixed?
The consumables rack is fixed to the top of the gantry. It is placed vertically on top and secured with screws.
Q: What if the nozzle kit still loose even if I finished the assembly?
Please tighten the eccentric nut on the back plate of the nozzle kit. After commissioning you can test by sliding it from side to side. Tight is stuck, loose is shaky
Q: Can I use 110V?
Two voltage steps, 115V and 230V, are available for adjustment on the printer power supply.
Current frequency: 50/60Hz with 24V DC output
Please adjust the printer power supply voltage to a suitable local voltage before using the printer
Q: Why the card has no response?
1. Please format the memory card to FAT32 format
2. Please check if the card slot is loose
3. Please wipe the card slot with a cotton swab dipped in alcohol to clean up the oxidation traces
4. Please replace the SD card slot
Q: S1 or s1 pro.which is better ? Is this a s1 pro or a modified s1?
The difference between the S1 and S1 pro is the pro has an all metal hot end that can go to 300c and a magnetic bed spring steel bed and a touch screen.It would cost about the same to upgrade it myself if in a Ender-3S1. In terms of machine installation or printing operations, the difficulty of them are similar. Direct Extruder is compatible with more 3D Printing materials. If you are considering printing high temperature products, you can choose Pro.
Download
 

HWv24S1_301_SWV2.0.8.24F4_F401_FDM_LASER

 Download

S1-Pro_User Manual

 Download

Ender-3S1 Pro-all version firmware

 Download
Easy to put together and works well..
The smart kit is a good addition. To improve this would add night mode to assist with taking photos or videos of longer prints.
Creality Ender-3 S1 Pro 3D Printer - printer doesn't read SD card
3D printer doesn't read the SD card. Worked for about 1 week then stopped working. Filament won't stick to plate on left hand side. So at the moment it is unusable as it doesn't come with a cable.
Bit too soon...
I have not opened the carton yet, so maybe your review request is a bit premature. My awarding of one star is not detrimental, I just could not think of a more appropriate score given the other options available. Perhaps you could be more mindful of people who have no need to "dive right in". I look forward to testing your machine, especially the auto-levelling and the various tips I have purchased.
so simple it just works
this is my 3rd fdm printer i have owned and it has been an absolute pleasure to use so far. the touch screen though a little confusing to begin with dosent take long to get used to where things are. setting up the auto bed leveling was also such a breeze. such smooth first layers with good adhesion i have yet to have a print lift or warp on the build surface yet. i have about 70hrs of printing on it so far and ive been printing only esun pla+ so i cant speak to how it hold up with other filaments yet.
Printer not received
Hi, I haven't received my printer yet, it's still at the local depot. It's not your fault though.