© Local AU Warehouse-Fast Shipping Within 3-7 Bussiness Days
© One Year Hassle-Free Warranty & 14-Day Return Service
© 100% Secure Checkout & Lifetime Customer Support

Creality Australia Laser Cutting Machine: 10W CR-Laser Falcon Engraver
 -
0.06mm Compressed Spot for Engraving
 -
Stronger to Cut and Engrave
 -
Engrave with Less Hassle
 -
400*415 Larger Workspace
 -
Able to Engrave and Cut Various Materials:Wood, Bamboo, Acrylics, Ceramics ,etc.
 -
Extensive Compatibility with Multiple Software,File Format and Operating System
 -
All-around Safety Protections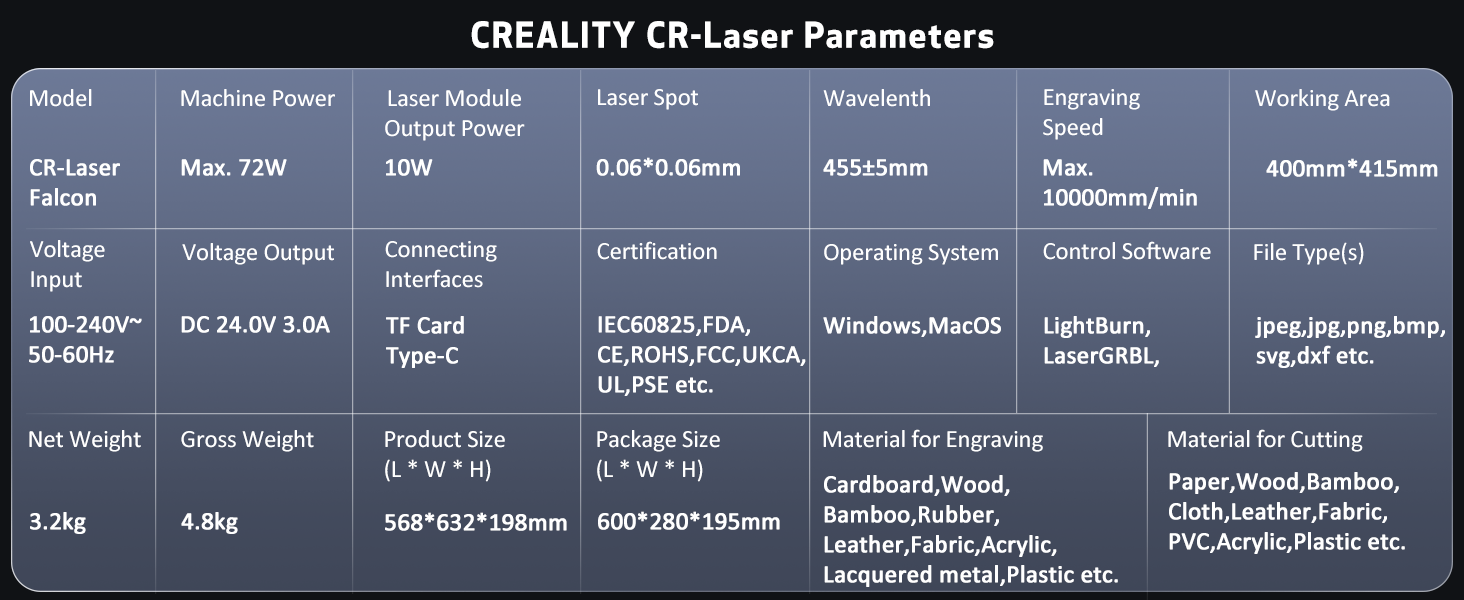 CR Laser Falcon 10W Review - From The Real Sam Prentice

SPECIFICATIONS
\
Download
 

CR-Laser Falcon User Manual V1.0

  Download

CR-Laser Falcon 10W_Operation video

  Download

Recommended parameters for 10W

  Download

CR-Laser Falcon User CV-30-Firmware_V3.0.24

  Download
Simple easy to use laser engraver
The video was nice but a little too fast, and had a technical error, in the that the sticker was on the wrong side, so some of the holes were not available.
My first cut was the eagle, it came out fine but slightly to dark.
use of the device was easy, and relatively quiet, a little expensive for what you got, but well-built and well designed, the little plate for laser heigh was a nice idea, the red cover for the laser shield, was nice and limits most of the laser light escaping.
Overall a good Creality product, as a user of the CR10S
Creality CR-Laser Falcon Engraver-10W
This was an easy thing to put together. You just have to make sure the two sides are even or it will print slightly askew. Easy to fix. It's a great etcher/cutter and is working extremely well. Does a great job with Anodized Aluminum etching too! Glad I purchased this 10w one!
Laser Fun
Overall the Creality CR-Laser Falcon Engraver-10W is a easy to use, exceptionally well designed machine. The provided g-code worked flawlessly, straight out of the box. Bit of a learning curve for someone who has never used lightburn. It would be good if Creality Australia sold the accessories for the device.
Great little laser
Have not fully utilised this baby yet but very impressed with the few materials I've tested it on. Got it mainly for precise cutting of small detailed items and was surprised at the capability of this unit.
Just wish Creality could have released accessories like honeycomb cutting surface and air assist at the same time , but thats to come I expect. I will just have to wait.
Last minute Christmas gift
Did a great job of getting the parcel to us in a very swift time at the worst tome of the year (Christmas)
Tracking was a bit vague and delivery was even more vague but ended well