© Local AU Warehouse-Fast Shipping Within 3-7 Bussiness Days
© One Year Hassle-Free Warranty & 14-Day Return Service
© 100% Secure Checkout & Lifetime Customer Support

Creality Australia Laser Cutting Machine: 10W CR-Laser Falcon Engraver
 -
0.06mm Compressed Spot for Engraving
 -
Stronger to Cut and Engrave
 -
Engrave with Less Hassle
 -
400*415 Larger Workspace
 -
Able to Engrave and Cut Various Materials:Wood, Bamboo, Acrylics, Ceramics ,etc.
 -
Extensive Compatibility with Multiple Software,File Format and Operating System
 -
All-around Safety Protections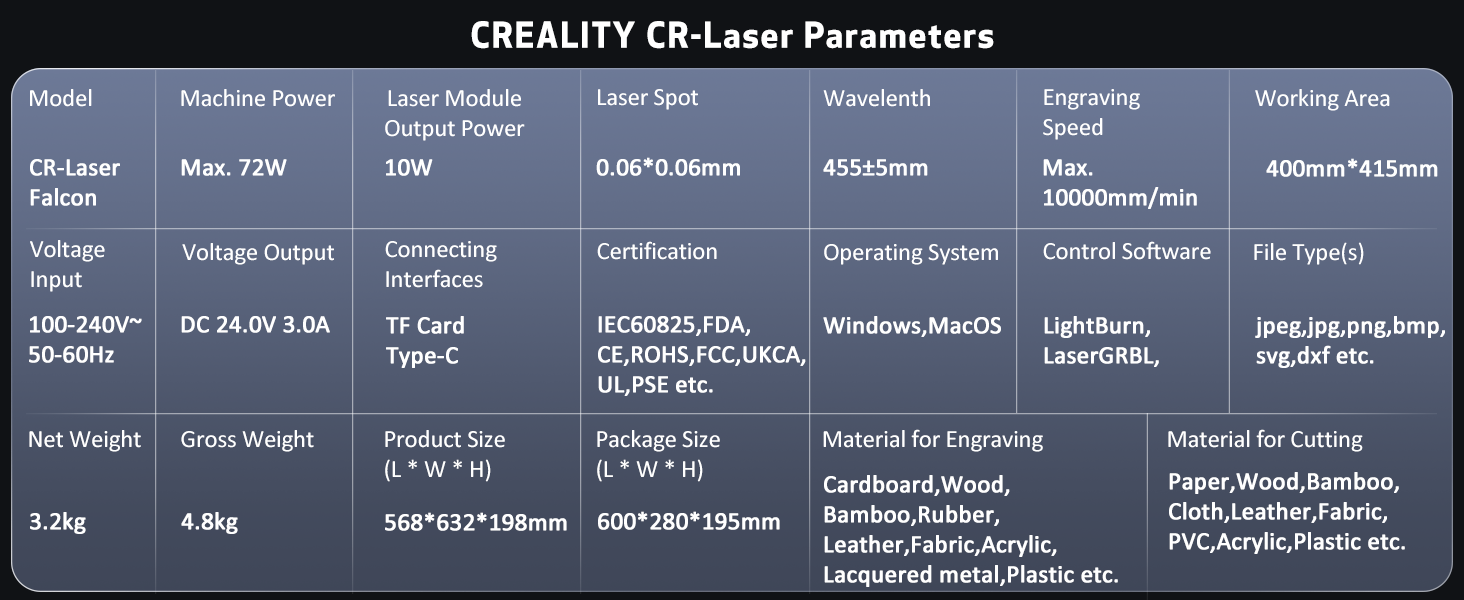 CR Laser Falcon 10W Review - From The Real Sam Prentice

SPECIFICATIONS
\
Download
 

CR-Laser Falcon User Manual V1.0

  Download

CR-Laser Falcon 10W_Operation video

  Download

Recommended parameters for 10W

  Download

CR-Laser Falcon User CV-30-Firmware_V3.0.24

  Download
Great little laser
Have not fully utilised this baby yet but very impressed with the few materials I've tested it on. Got it mainly for precise cutting of small detailed items and was surprised at the capability of this unit.
Just wish Creality could have released accessories like honeycomb cutting surface and air assist at the same time , but thats to come I expect. I will just have to wait.
Last minute Christmas gift
Did a great job of getting the parcel to us in a very swift time at the worst tome of the year (Christmas)
Tracking was a bit vague and delivery was even more vague but ended well
Newbie
Setting up the falcon 20 watt laser could not have been any easier creality got that right
Straight out of the box 10 to15 minutes setup
And engraving and cutting out shapes etc
No problems at all just wished they had supplied a list of different types of woods that the laser can be used with it want cut 3mm plywood which is all I can get where I live when I get some decent wood I can use will do a better review
Packaging: well packed, plenty of foam and no movement when in the box so the laser is protected.
Set-up: under 60 min to set it up and install the software. It's best to download the latest set up files from the website.
If you're in the market for a laser, this is a good choice. The 10W version is powerful enough for etching, cutting and good enough if you run a small business from home.
One word of caution, this should be used in a well ventilated area and always with dark glasses (even though the red casing is a safety feature. Depending on the type of work and the power setting, the jobs usually take between 30 min to a couple of hours. If crafting on wood, I was able to detect a significant burning smell, so it should not be left unattended when working and should be plugged out after the job. I watch over the work on a camera from another room instead of being around it for longer jobs.
This machine should be placed on a sturdy table and a hard material so the laser doesn't accidentally cut through. I placed it on a slab of granite but that may be overkill (I don't like to take chances and I'm not a pro).
Overall, this is a good piece of kit for DIY projects and a small business.
I'm giving 5 stars because the communication and service after the sale was stellar. Like many kits, there were some minor issues with components so I contacted the seller and they replied quickly and sent replacement parts promptly. I was up and running fast.