© Local AU Warehouse-Fast Shipping Within 3-7 Bussiness Days
© One Year Hassle-Free Warranty & 14-Day Return Service
© 100% Secure Checkout & Lifetime Customer Support
About Creality Australia Ender-3 3D Printer
Fully Open Source: Creality 3D printers is working with its wonderful community of users and contributors to improve this open sourced product every day. A design culminating from some of the best and brightest minds in the 3D printing world.
Resume Print:

Creality 3D printer equipped with super quiet printing designing, with smooth adjustable pulley, and if power is accidentally cut off during printing, accurate printing can be continued after power is switched on.

Advanced Extruder Technology: Upgraded extruder greatly reduces plugging risk and bad extrusion; V-Shape with POM wheels makes it move noiseless, smoothly, and durable.
Creality Official Store: We are the ONLY official Creality 3D store! Because all of our products are shipped to the consumer directly from the manufacturer, we provide a 1-year limited and lifetime technical assistance. Professional customer service has always been a cornerstone of our company philosophy.
PARTIALLY-ASSEMBLED KIT: It is a great project for middle school and high school-aged students. The perfect gift to spark a lifelong love for science and engineering, and provide a deeper understanding of machinery and robotics.
Unboxing & Install
Why Most People Choose Ender 3 3D Printer
From 2018 till now, the Ender-3 model has remained in the "Best Selling". Although we are launching new Ender-3V2, Ender-3S1. So why do many choose Ender 3?

1. In terms of price: the price is lower than 200, stable printing quality and 220*220 printing size, supports different filament materials
2. In terms of performance: support resume printing, 5mins rapid heating, reliable power supply
3. Upgrade convenience: ender 3 direct drive, cr touch auto leveling kit, touch screen , tempered glass bed and more. There's do much you can do with it
4. Who chose him: News for 3d printing, 3d printing enthusiast; for DIY makers, for education...
Best Sellers
SPECIFICATIONS
Modeling Technology: FDM(Fused Deposition Modeling)
Printing Size: 220x220x250mm
Filament: 1.75mm PLA, TPU, ABS
Working Mode: Online or SD offline
File Format: STL,OBJ,G-code
Layer Thickness: 0.1-0.4mm
Printing Accuracy: ±0.1mm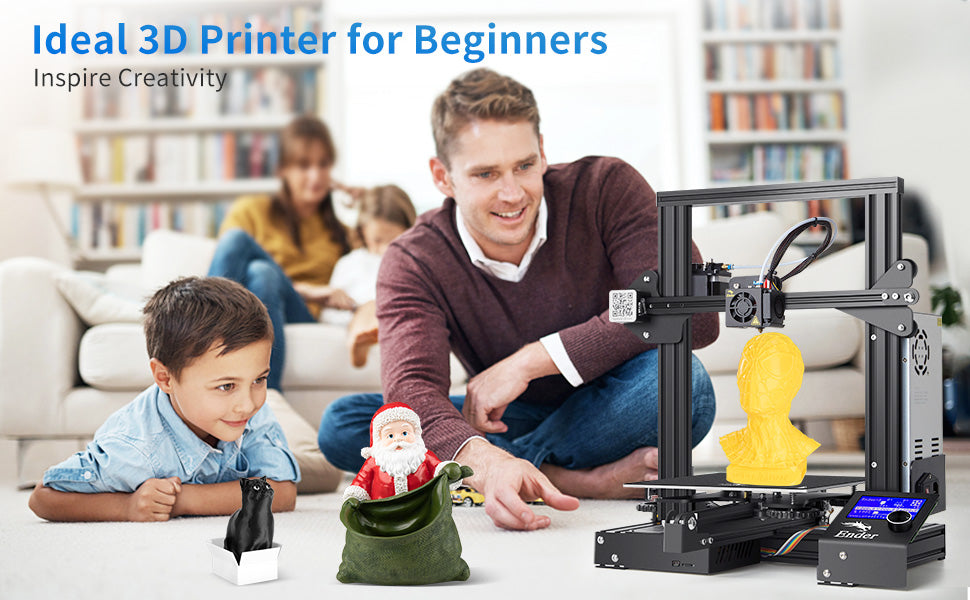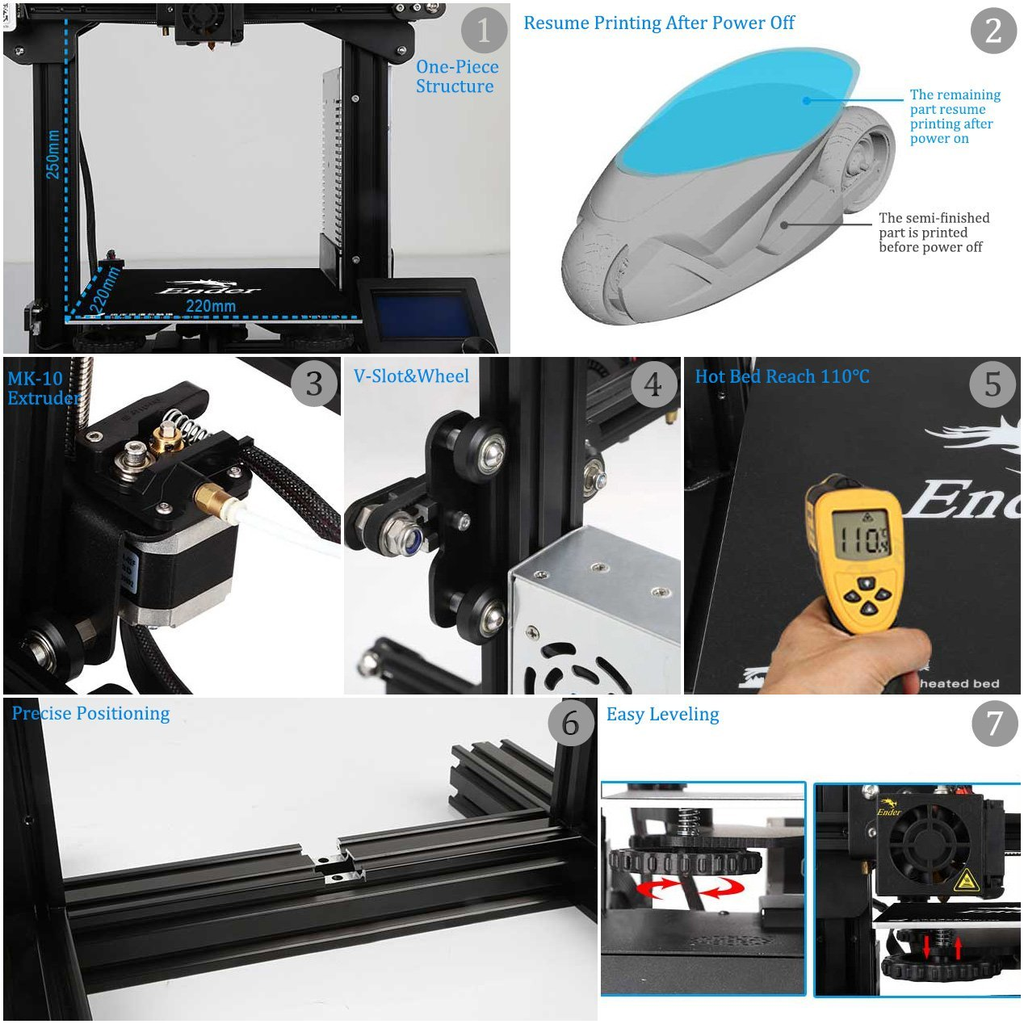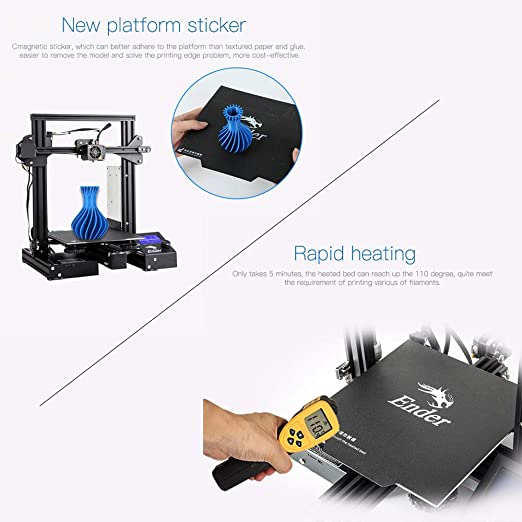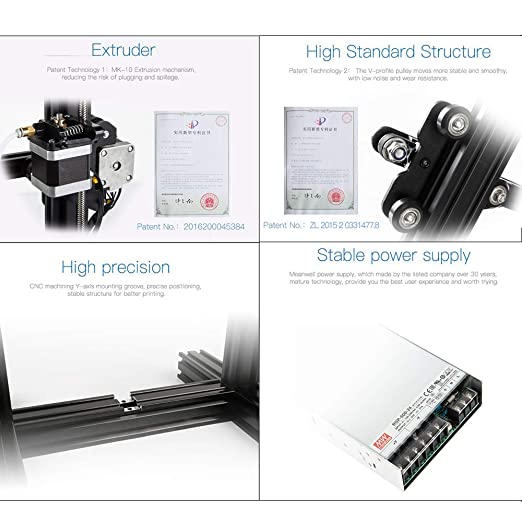 FAQ
Filament did not stick on the hotbed?
For newcomers, this is the most common problem. Do not worry, you can solve it easily. Generally,the distance between the nozzle and platform is too far or near. So rotary the knob under the platform to adjust the distance between the nozzle and platform again,at a piece of A4 paper distance or less).
Creality Ender 3 Bed Leveling – All You Need to Know
Any structure needs a strong foundation. The same is true for 3D-printed objects. Leveling the bed on your Creality Ender 3 will ensure that that all-important first layer is solid...
How to level Creality Creality Ender 3?
Move the nozzle so that it's positioned over the left corner of the bed. A half-inch or so from both sides is a good location.
Slide the paper between the nozzle and the bed. If it doesn't fit, drop the corner until it does.
Once the paper is able to slide under the nozzle, very slowly raise the corner with the adjuster. Remember: Clockwise moves the bed up. As you do this, gently slide the paper back and forth. The moment you feel even the slightest resistance to your moving the paper, stop turning the knob. That corner is (almost) ready to go.
Do the same for the other three corners of the build plate. Always advance the hot end to a new corner slowly. This will prevent damage to the build plate in case the nozzle starts to drag. If this occurs, simply lower the next corner (before starting the leveling process) to make some room.
After you've adjusted each corner once, go back and check the four corners again. You may have to do further adjustments to get all four correct.
Pretty good
Still working around how to use the settings and how things work.
It seems pretty cool so far
Don't work
Power pack failed during set up
Thanks guys
Happy with the service and product