© Local AU Warehouse-Fast Shipping Within 3-7 Bussiness Days
© One Year Hassle-Free Warranty & 14-Day Return Service
© 100% Secure Checkout & Lifetime Customer Support
Ender-3 V3 KE 3D Printer - Creality OS | Self-test with One Tap | High-speed Printing
Smart UI at Your Finger Tips: Creality OS, Smart Beyond Limits
Smart UI at Your Finger Tips: Responsive touch UI with an intuitive tab bar; Smart self-test for Z offset, auto leveling, and more with just one tap; Real-time model preview, and vivid motion graphics of printing parameters
Smart Algorithms, Better Print Quality: Input shaping*: Mitigates the printer's vibrations for minimal ringing or ghosting. Motion advance: Optimizes the feeding flow for fewer blobs and oozes.
Control and Monitor Smartly from Anywhere: The fun goes beyond the limits of space with LAN printing and cloud printing. Every aspect of your 3D printer can be controlled from a PC (with Creality Print) or a phone (with Creality Cloud APP) via WiFi. With multiple printers online, you can manage them efficently as a print farm.
Shift into a Higher Gear: Max Printing Speed: 500mm/s*; Max Acceleration: 8000mm/s²
X-axis Linear Rail, Ultra-smooth Motion: The precise linear rail on the X-axis has a carriage slide containing ball bearings, making each move accurate, steady, and frictionless (0.04 friction coefficient*). Built out of stiff steel, it will stay as new even after long-time use.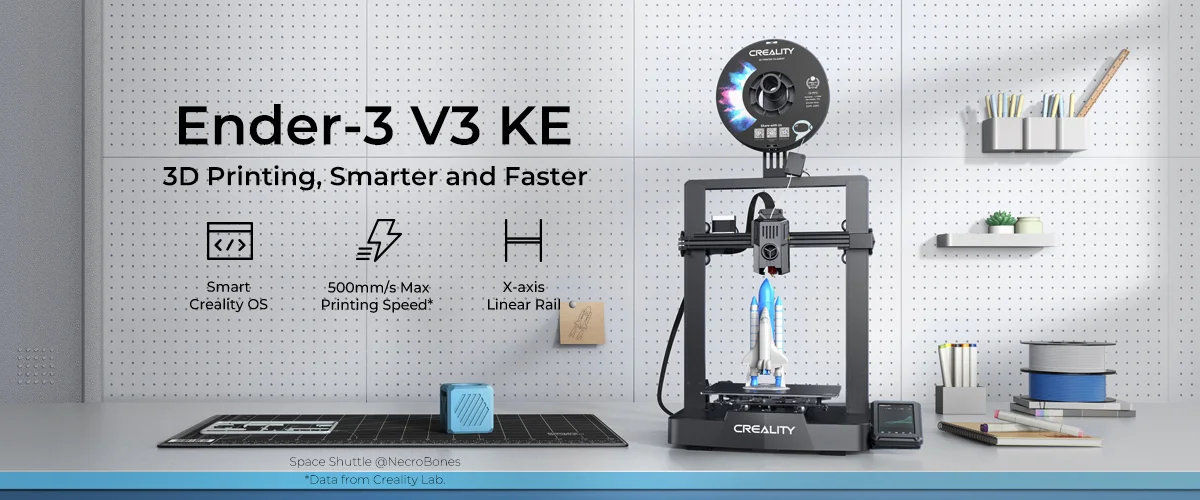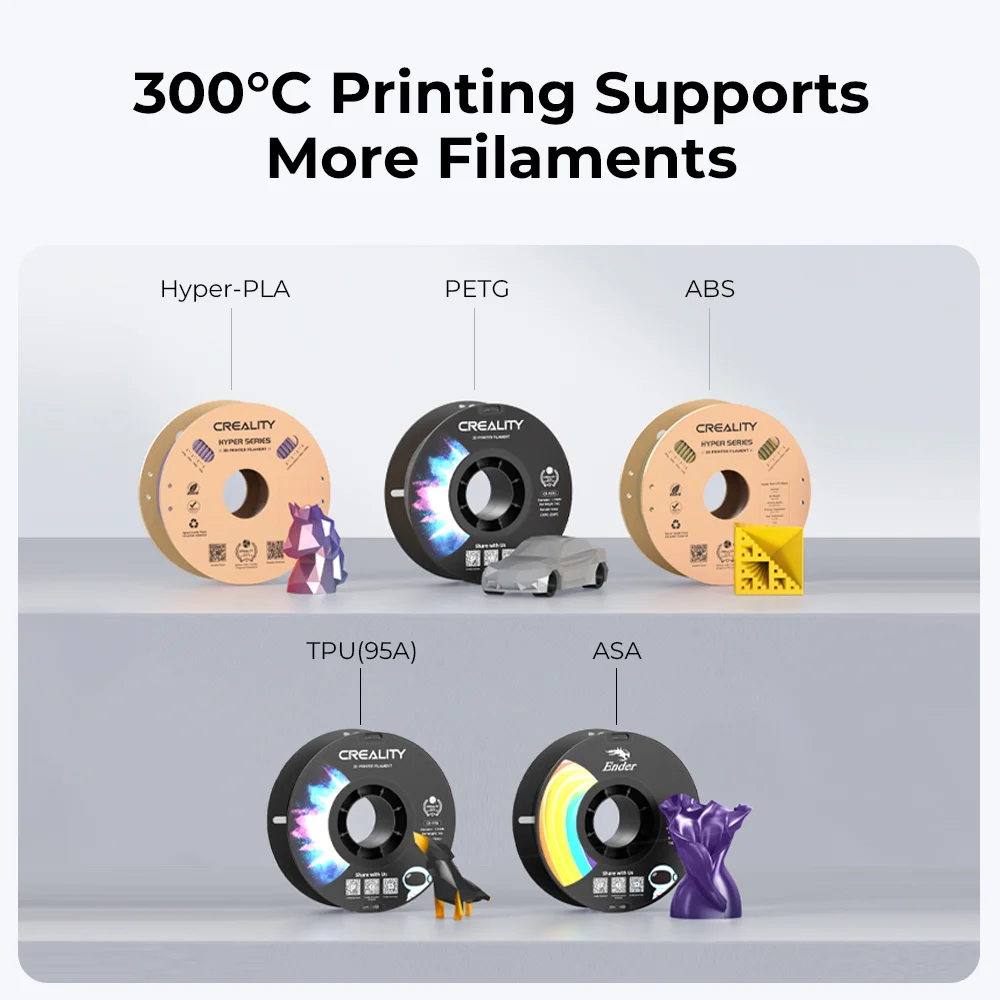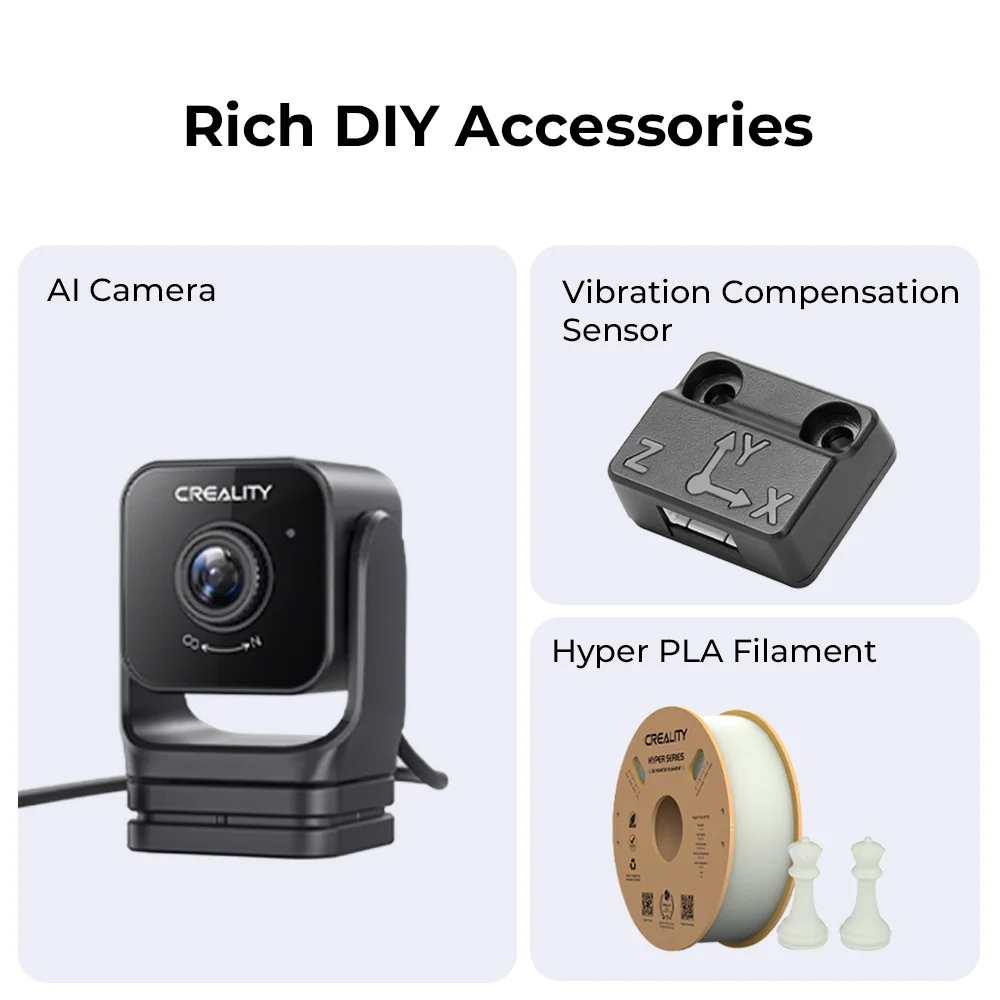 Printing Technology: FDM
Build Volume: 220*220*240mm
Product Dimensions: 433*366*490mm
Package Dimensions: 502*409*280mm
Net Weight: 7.8kg
Gross Weight: 9.9kg
Typical Printing Speed: 300mm/s
Max. Printing Speed: 500mm/s (Test with Hyper PLA)
Max. Acceleration: 8000mm/s²
Printing Accuracy:±0.1mm
Layer Height:0.1-0.35mm
Filament Diameter: 1.75mm
Nozzle Diameter: 0.4mm (default)
Nozzle Temperature: ≤300℃
Heatbed Temperature: ≤100℃
Build Surface: PEI flexible build plate
File Transfer: USB drive, LAN, Creality Cloud APP
Extruder: Upgraded "Sprite" direct drive extrusion
Leveling Mode: Hands-free auto leveling
Display Screen: 4.3" color touch screen
Mainboard: 32-bit silent mainboard
Printable File Format: G-code
Power Loss Recovery: Yes
Filament Runout Sensor : Yes
Vibration Compensation Sensor :Optional
Creality AI Camera: Optional
Rated Voltage: 350W
Rated Power: 100-120V~, 200-240V~, 50/60Hz
Slicing Software: Creality Print, Cura, Simplify3D
Formats for Slicing: STL, OBJ, 3MF, AMF
Supported Filaments: PLA, PETG, ABS, TPU(95A), ASA
Ender Auto levelling kit
14 days later and still faut finding levelling issues.