© Local AU Warehouse-Fast Shipping Within 3-7 Bussiness Days
© One Year Hassle-Free Warranty & 14-Day Return Service
© 100% Secure Checkout & Lifetime Customer Support
Creality Australia Ender 3 S1 advantages and upgrades:
Dual-Gear Direct Drive Extruder: Compatible with more filaments, Ender 3 S1 3d printer can print PLA, TPU, PETG, ABS.etc. It is more lighter and features less inertia and more precise positioning. Upgraded dual-gear direct extruder features two chrome steel gears that are engaged at a 1:3.5 gear ratio. With a pushing force of up to 80N, the extruder realizes smooth feeding and discharging of flaments without slipping and works extremely well in printing flexible flaments such as TPU.
CR Touch Auto Bed Leveling: Upgraded CR Touch 16-point automatic bed leveling technology saves you the trouble of manual leveling. Easy to use, the intelligent leveling system can automatically compensate for the printing height of different points of the heatbed.
Removable Spring Steel Print Sheet: Different from ender3, ender 3 pro and ender 3 v2, this new-released FDM 3d printer comes with a removable PC spring steel platform. The innovative printing platform is a combination of a PC coating, a spring steel sheet and a magnetic sticker, which sticks to the surface immediately when released. The PC coating brings good adhesion and printed models can easily be removed by bending the print sheet.
Higher Printing Precision & Easy to Install: With a Z-axis dual-screw+Z-axis dual-motor design, Ender-3 S1 works smoother and more synchronously to lower the possibility of lines and ridges on the sides of your print, thus improvingthe printing quality. And 96% of the printer body is pre-installed, making assembling extremely convenient with only 6 steps and the maintenance of the printer is simple and easy.
Power Loss Recovery and Filament Sensor: Ender-3 S1 features the function of detecting filament runout or breakage/power loss and resume printing after recovery. By accurately recording the printing data at the time of power outage/filament runout or breakage, it helps to avoid the waste of filaments and time caused by accidents.
Ender 3 S1 Unboxing & Assembly
Ender 3 S1 & Ender 3 V2 in comparison
| | | |
| --- | --- | --- |
| | Ender 3 S1 | Ender 3 V2 |
| Print volume: | 220 x 220 x 270 mm | 220 x 220 x 250 mm |
| Display: | color 4.3 inch LCD display with rotary knob | color 4.3 inch LCD display with rotary knob |
| Structure: | mostly pre-assembled (~ 15 min.) | Partially pre-assembled (> 45 min.) |
| Extruder: | Direct Drive | Bowden |
| Print bed leveling: | Automatic | Manual |
| Accuracy: | 0,1 mm | 0,1 mm |
| Min. layer thickness: | 0,05 mm | 0,1 mm  |
| Nozzle: | 1 x 0.4 mm | 1 x 0.4 mm |
| Filament:  | 1.75 mm (PLA, ABS, PETG, TPU) | 1.75 mm (PLA, ABS, PETG, TPU) |
| Max. nozzle temperature: | 260 °C | 255 °C |
| Max. print bed temperature: | 100 °C | 100 °C |
| Print speed: | 30-60 mm/s (max. 150 mm/s) | 30-60 mm/s (max. 180 mm/s) |
| Resume print: | Yes | Yes |
| Filament sensor: | Yes | No |
| Pressure bed: | PC on spring steel, flexible, magnetic | Textured glass bed |
Best Sellers
SPECIFICATIONS
Extruder: "Sprite" Direct drive (extruder sits directly over the nozzle in the print head)s;
Print volume: 220 x 220 x 270 mms;
Accuracy: 0.1 mms;
Layer thickness: 0.05 – 0.35 mms;
Nozzle diameter: 0.4 mms;
Max. Nozzle temperature: 260 °Cs;
Max. Print bed temperature: 100 °Cs;
Max. Print speed: 150 mm/ss;
Filaments: PLA, ABS, PETG, TPUs;
Filament diameter: 1.75 mms;
Print bed: PC on spring steel, flexible, magnetics;
Print bed leveling: Automatic (CR-Touch);
Resume Print: Yes
Filament Sensor: Yes;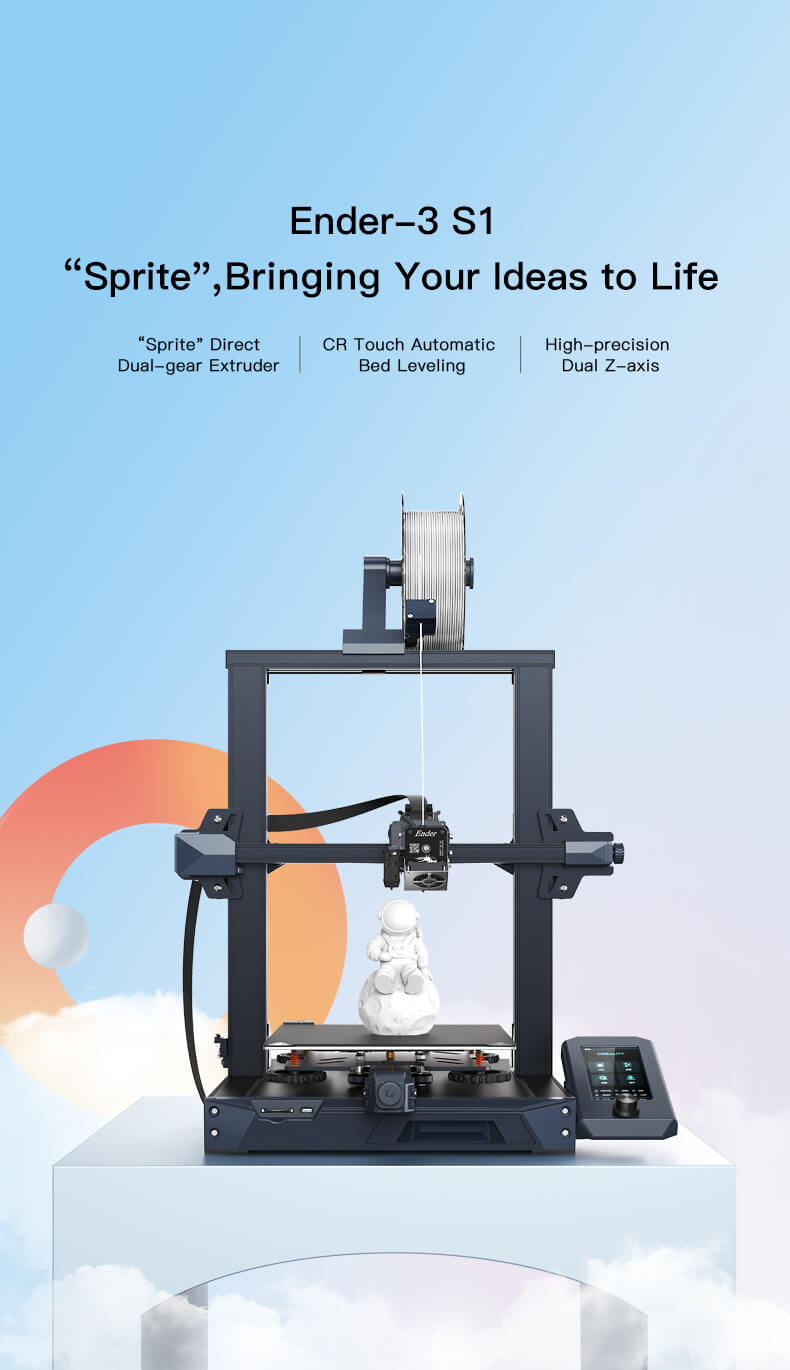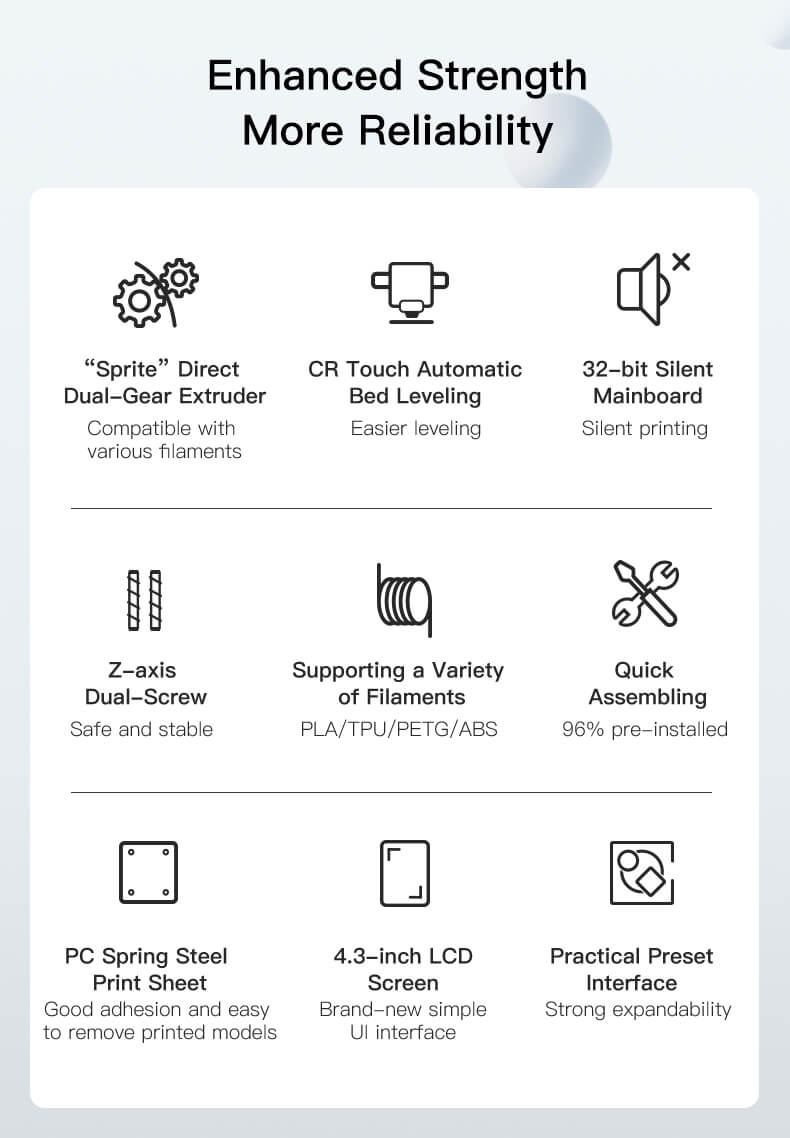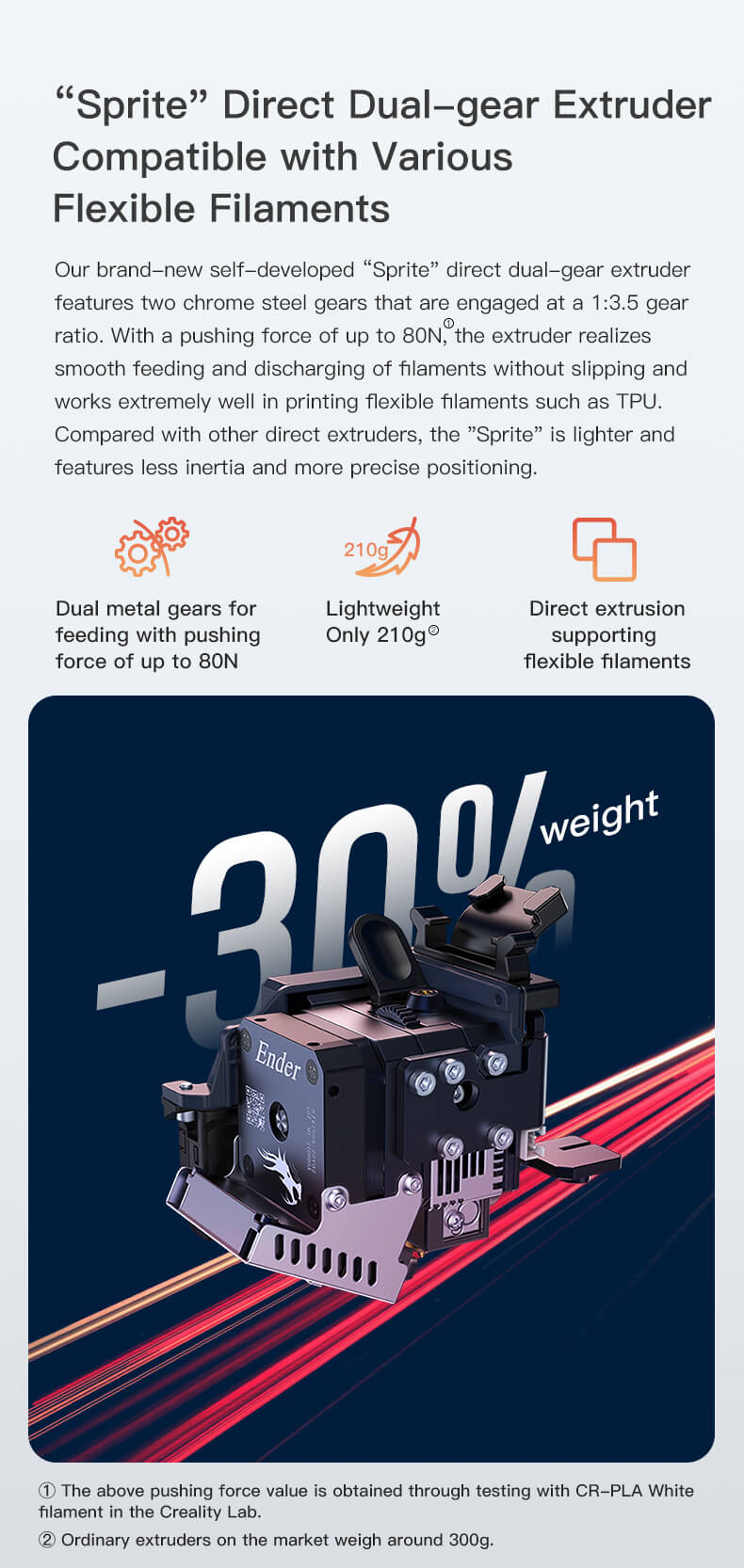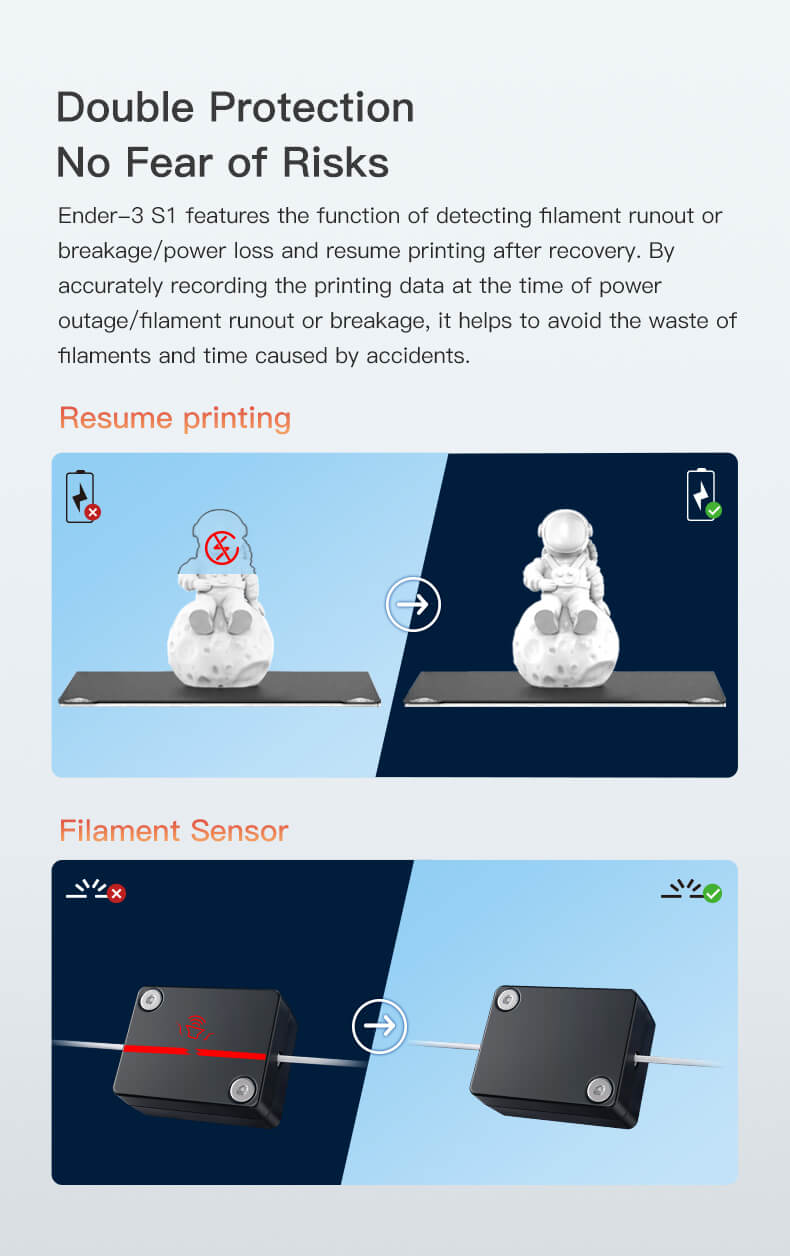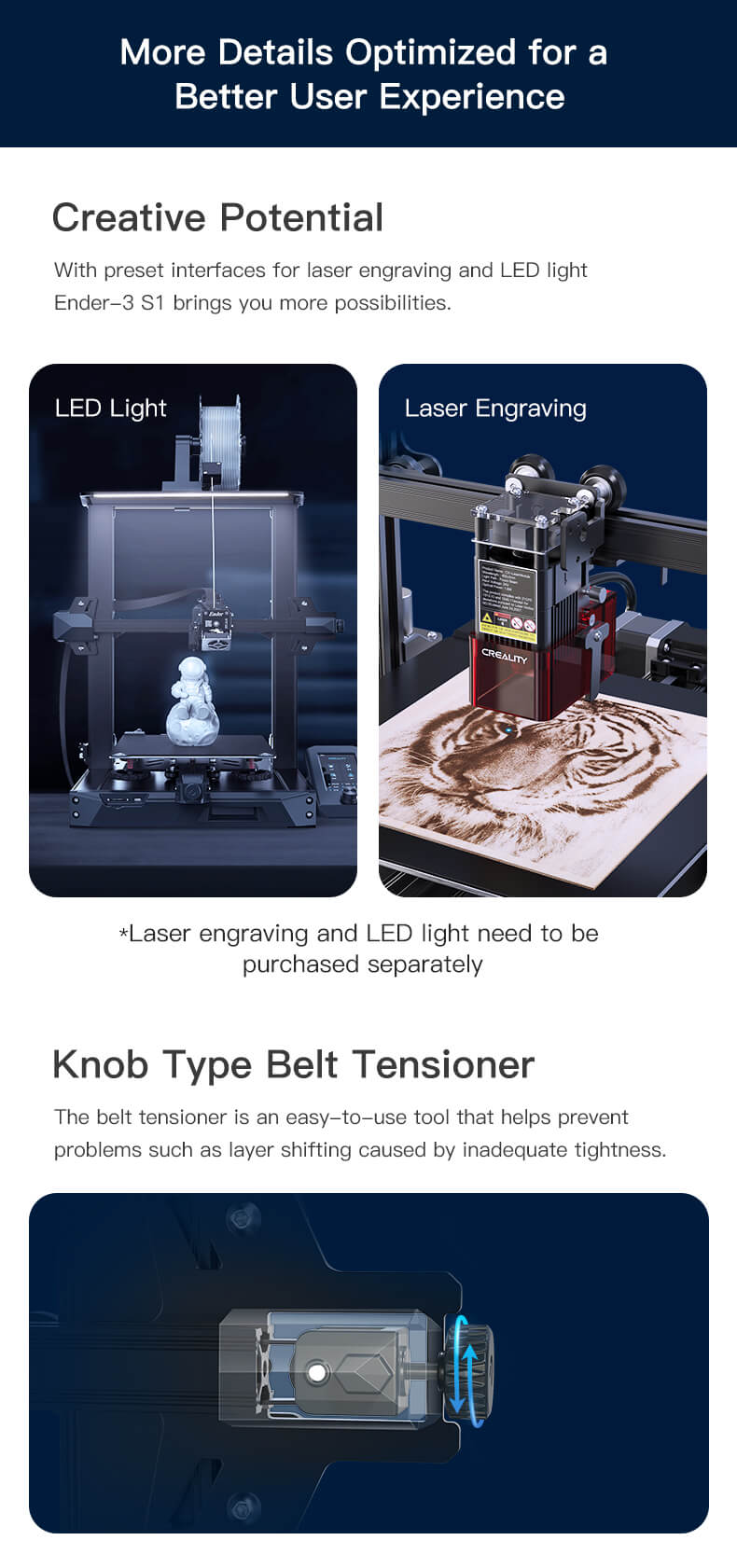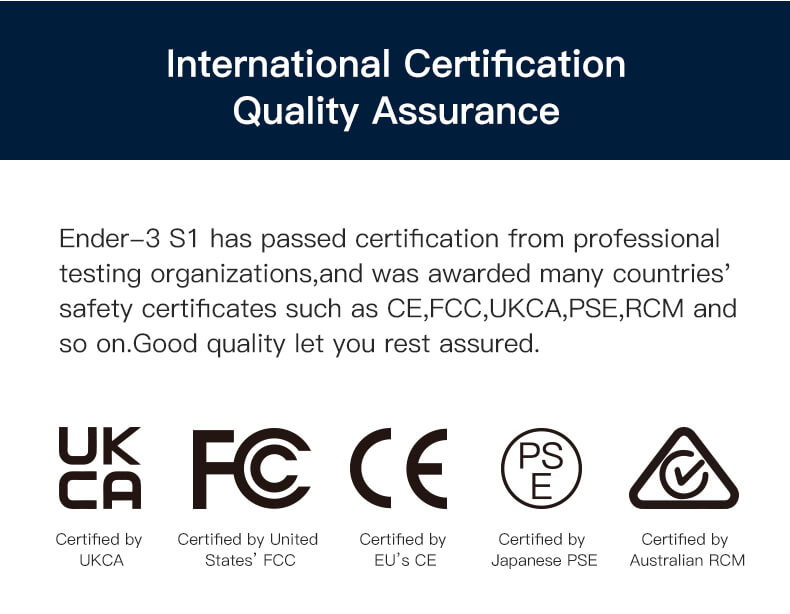 Download
Started smoking when plug in to do auto leveling
I have assembled my 3d printer ender s1 according to the instructions given and also followed along the YouTube video scanned by the QR code. However, when I set to auto leveling, it started smoking and stopped working. It's a very dangerous situation and I'm still waiting feedbacks and solutions from the creality store to solve this problem.
Quite unhappy with this expreince as it cost me alot of time to contact and wait for replys by email and not getting my 3d printer working "still waiting for a solution".
Perfect after setup and adjusting
Printer works as expected, first print was a success. Easy to install and the Ender 3 s1 combines all the upgrades available for Ender 3 and Ender 3 v2. Maybe still a bit expensive, but it was released in December 2021. Cons: the extruder head had a bent connector (see picture) who interfered with the installation and the fitment of the head to the metal support on the x axis. I had to bent it back carefully by myself, with the risk to crack the two small connectors. I think this is the most important and expensive part and this should not happen especially when you pay almost 600 dollars. For the rest i would strongly suggest this printer. UPDATE: the seller contacted me to ask more about it and offered me the spare part at no extra cost.
Missing parts
There is a missing part. And I sent email about this but no reply
My first 3D Printer
In a way I bought my Ender 3 S1 based on an impulse decision. I want to create a large format 4 x 5 camera and it seemed like a modern technical approach to create it with a 3D printer. The Ender 3 S1 has worked perfectly out of the box and I am really looking forward to creating something special with it.