© Local AU Warehouse-Fast Shipping Within 3-7 Bussiness Days
© One Year Hassle-Free Warranty & 14-Day Return Service
© 100% Secure Checkout & Lifetime Customer Support
Creality K1 Max AI Fast 3D Printer 600mm/s Printing Speed 300*300*300mm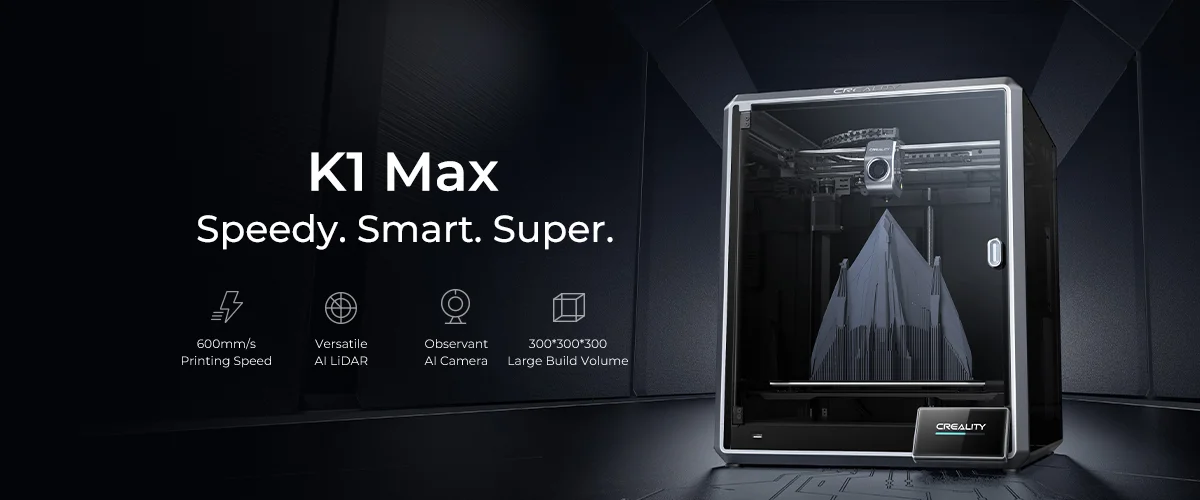 12X Faster, Defy Limitations
K1 Max reaches 600mm/s* in only 0.03s based on 20000mm/s² acceleration. It can be as productive as several 3D printers together. K1 Max: 600mm/s Regular 3D Printer: 50mm/s * The 600mm/s speed is achieved at Creality Lab in the Surface Mode with 0.1mm layer height. * The typical speed is 300mm/s. The travel speed is 800mm/s.
K1 Max, with its stunning speed, will kindle people's zeal for 3D printing. A fast speed cuts printing time and raises efficiency. It uses less energy for the same output, thus more eco-friendly. Most importantly, it focuses on the pure joy of creation.
Nimble Setup for Speed
K1 Max combines the nimble Core XY with a 190g lightweight printhead for less motion inertia. Agile and swift.
Max. 32mm³/s Flow
New ceramic heater, encircling the entire hotend. It heats to 200℃ in 40s and melts the filament instantly. Dual-gear direct extruder, delivering strong extrusion force. Hotend with a titanium alloy heatbreak and a hardened steel nozzle, working with flying colors in up to 300℃. Ceramic Heater Encircles the Hotend.
Model Cooling by Dual Fans
A large fan on the printhead with air ducts cools the model directly. An 18W auxiliary fan in the build chamber enhances the cooling effect, too.

Max Capacity, Efficient Use of Space
K1 Max boasts a 300x300x300mm large build volume, great for rapid prototyping or design verification. It also offers a high build volume to printer size ratio of 25.5%.
AI Camera Keeps a Keen Watch
K1 Max uses an AI camera to watch over spaghetti failure, foreign objects, debris, etc. It will alert you when an error occurs. It also supports real-time monitoring and creates time-lapses for sharing.

Smart System, Unbridled Performance
K1 Max adopts the smart Creality OS. It features a straightforward UI, and syncs data and commands with PC, phone, Cloud, and add-on modules. The snappy dual-core 1.2GHz CPU powers high-speed printing with ease. The 8G ROM stores up to 400 model files and enables quick writing and reading.
Intelligent Aid to Your Print Farm
Once K1 Max is connected via WiFi or RJ45 Ethernet port to the LAN or Internet, you can monitor and control the printing from a PC or phone with Creality Print software or Creality Cloud. Even better, when many K1 Max printers are online, they can be easily clustered or grouped for volume production.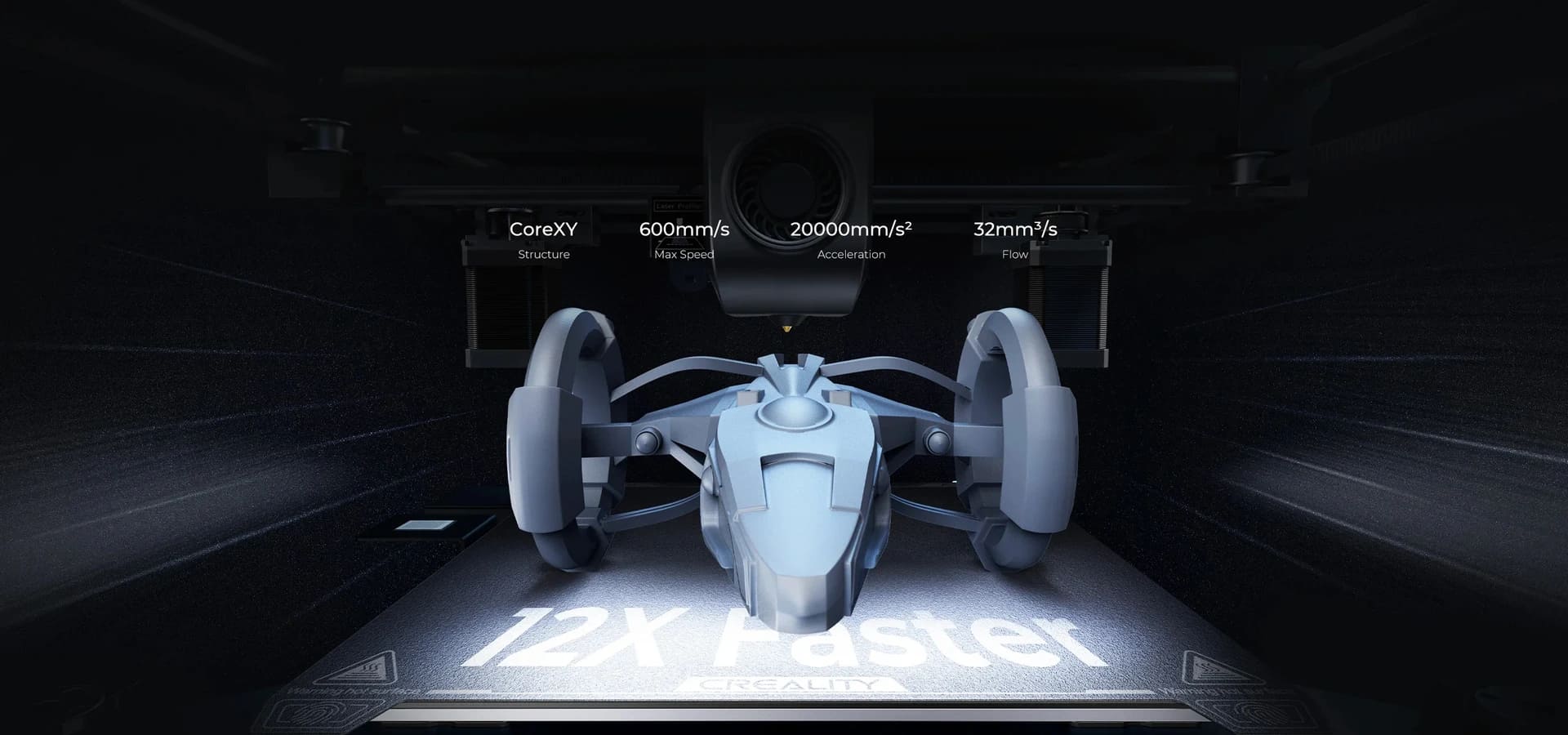 Rigid Frame, Stable Quality
The frame of K1 Max is built with rigid die-cast aluminum alloy parts. It enables steady printing at high speed. And the print quality is excellent the whole time.
Dual Hands-free Auto Leveling
First, strain sensors in the heatbed generate an accurate leveling mesh for auto compensation. Second, AI LiDAR scans the bed tilt at million points for more precise leveling. Both ways are hands-free and do not require any attention.
Ender 3 max
Great build quality, prints so nice, very happy with the value of this unit
This was my first experience with 3D printing. After a month of research, I found the Ender 3 Max to be one one the Best Values and took the plunge!
If you decide to do this too, I suggest joining some users groups on FB. I've learned a lot and have become a printing fool !!!
I'm so happy with it! It prints so quietly, the prints are smooth and it's very easy to use. I would highly recommend
Amazing! It's super easy to set up which is great for beginners like me (15-30 minutes). The quality is better than expected and it has a huge print size. Super easy to use. I'm going to take a slow with smaller prints and work my way to bigger ones.
This is basically the baseplate and Y axis of the CR10 with a full sized buildplate and carbo base with the frame of the Ender 3. But it works and the price is good. I got excellent results out of box. Only hitch is that there isn't a profile in Cura or Slic3r yet and the Marlin config doesn't yet have examples. But it is basically 4.2.2 board on Ender with big frame. On;y x and y stepper motors are TMC driven - 2208 I believe, the Extruder and Z axis are A4988, so there is a reduction in noise but not zero noise. The only thing I have slight difficulty with is the filament sensor - if you don't entirely straighten the first piece of filament it is difficult to thread through. Otherwise a good solid printer I believe with give many hours of pleasure