© Local AU Warehouse-Fast Shipping Within 3-7 Bussiness Days
© One Year Hassle-Free Warranty & 14-Day Return Service
© 100% Secure Checkout & Lifetime Customer Support
Creality Ender-3 V2 Australia Main Feature
4.3 Inch Color LCD Screen, 32-bit Silent Motherboard, Carborundum Glass Platform, UL Certified Meanwell Power Supply, Print Resume Function, 220 x 220 x 250mm Print Size

Creality Ender-3 V2 is great at your Best budget 3D printer. The main selling point of Ender 3 series 3D printers is stable printing, mainly because of the use of V-belt pulleys, which ensure smooth movement, low noise, wear resistance, and longer printing life.
UL Certified MeanWell Power Supply: Equipped with MeanWell power supply, produced by the listed company with mature technology, meeting all the needs of fast heating and long-time printing. Moreover, the power supply is concealed in the machine, making it much safer. 
In addition, a new XY axis Tensioner has been added to the new Ender 3 V2, which supports a faster and more convenient way to adjust the belt tension. The knob added to the extruder can be used more easily. Load and feed consumables. All these improvements make Ender 3v2 printing more stable.
Creality Ender 3 v2 Review
- The Best 3D Printer Under $300 (2021) - ALL3DP Top Pick/Teaching Tech

- Creality's NEW Ender 3v2 3D Printer! Unbox! Build! First Print!
- Level Up! Install Creality's BLTouch Bed Leveling Kit on Ender-3 V2!
Best Sellers
SPECIFICATIONS
Ender-3 V2 Specifications:
Technology : FDM 3D Printer
Voltage:  24V
Assembly: Assembly kit
Build Size : 220*220*250mm
Nozzle Diameters : 0.4mm
Nozzle Count : 1
Max. Nozzle Temp : 255℃
Max. Print Bed Temp : 110℃
Printing Materials : PLA,TPU,ABS
Filament Dia : 1.75mm
XY-axis Precision : 0.012 mm
Z-axis Precision : 0.004 mm
Max Print Speed : 120mm/s
Auto Levelling : NA
Supported files : STL,OBJ,G-Code
Connectivity : USB or SD CARD
Machine size : 475*470*620mm
Machine weight : 7.8kg
Board Version: Creality V4.2.2 Board 32 Bit with TMC 2209 Driver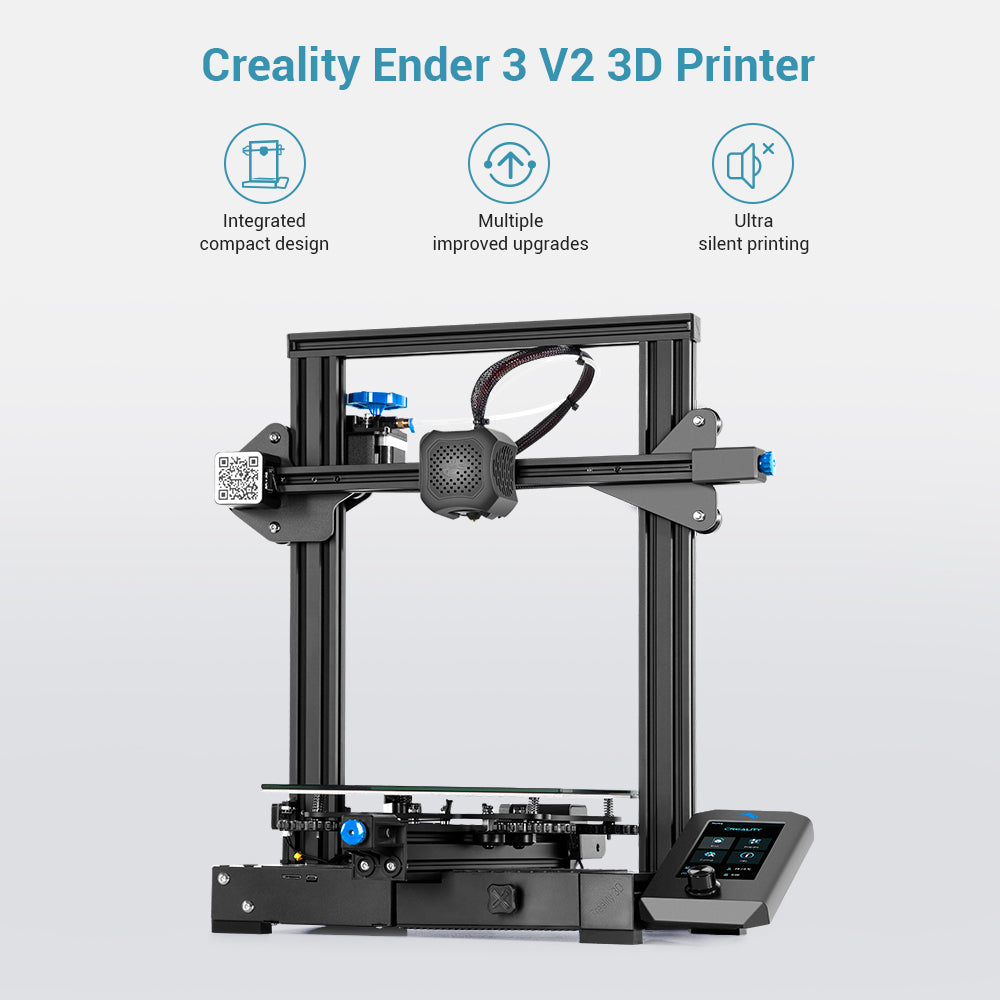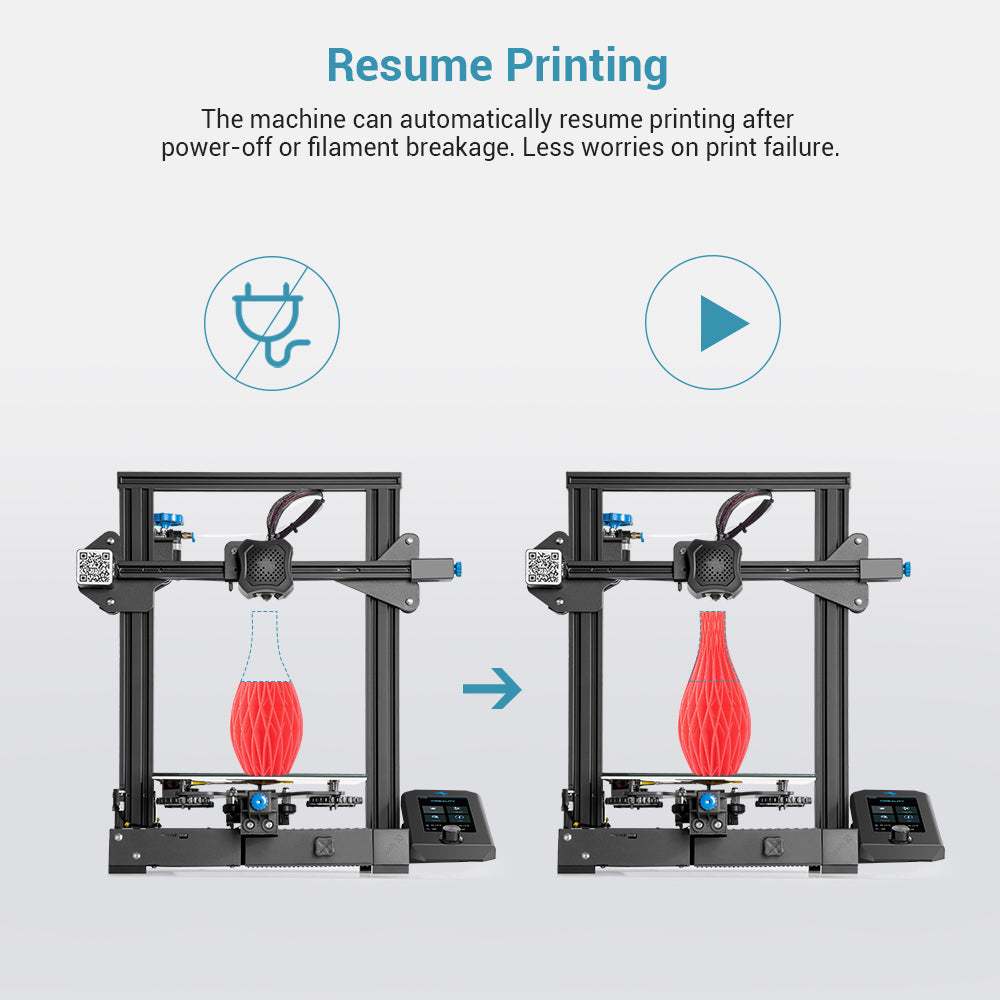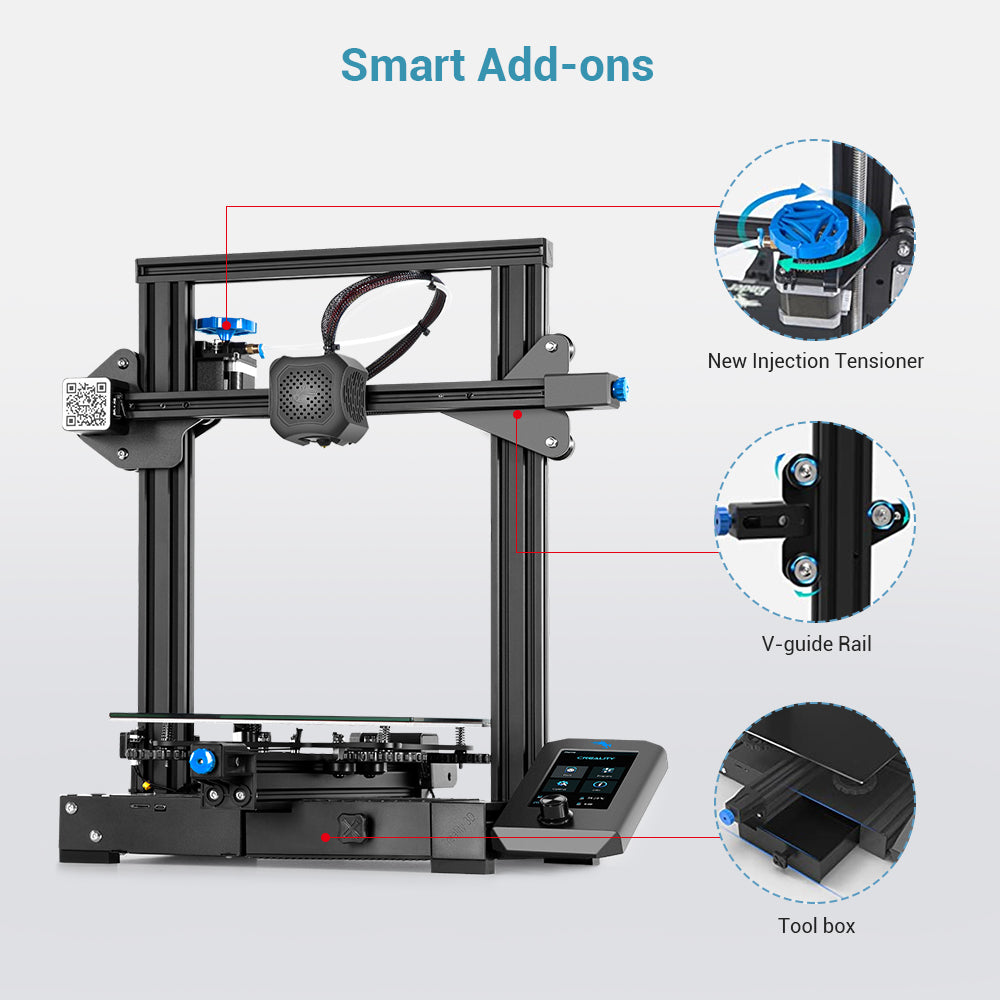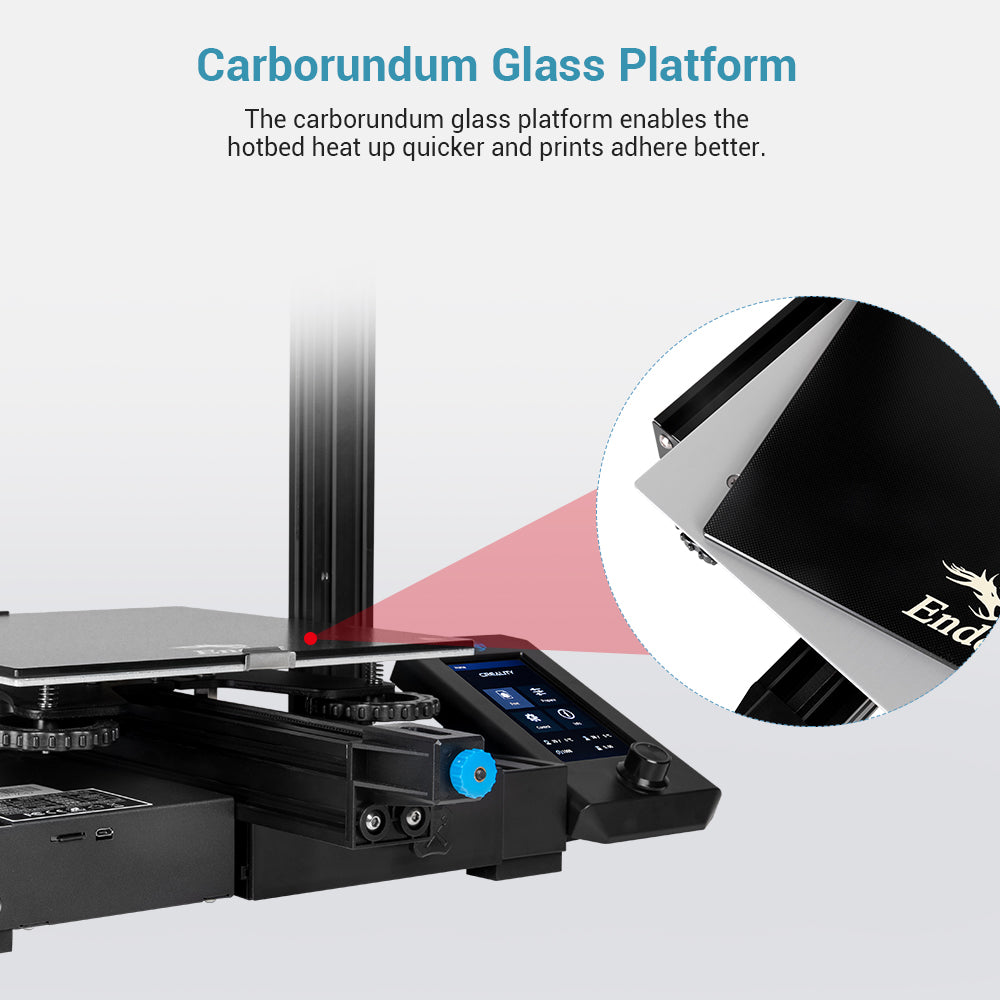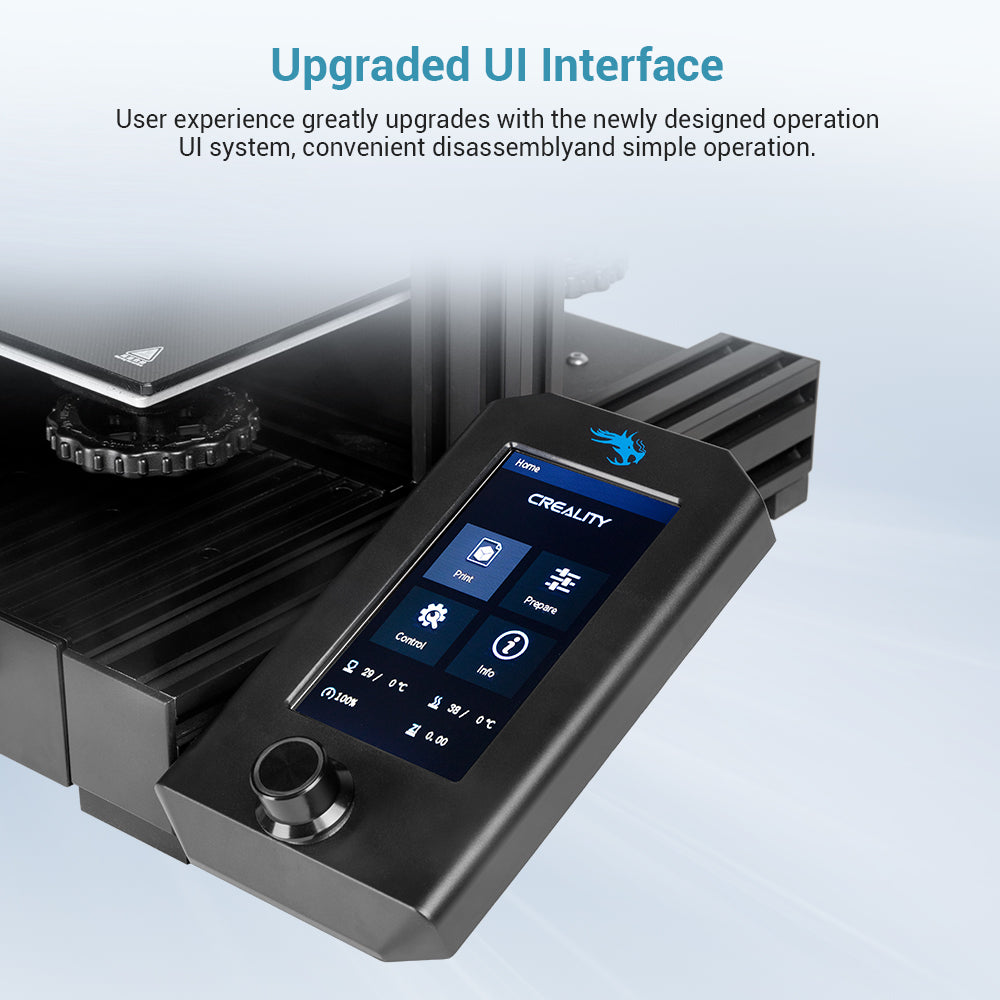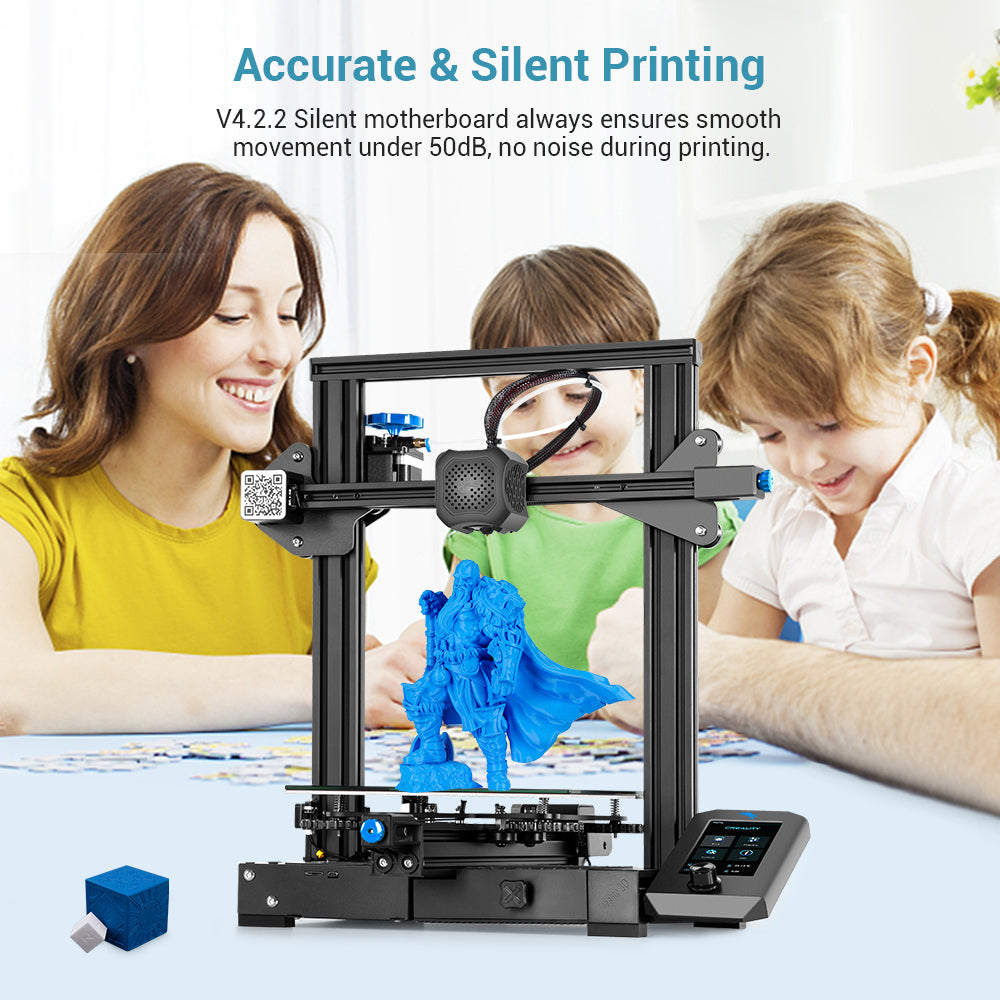 Download
| | |
| --- | --- |
| Firmware, Upgraded Part Firmware/Video tutorial       | |
| 4.2.7 Marlin Version_ST MCU |    Download |
| 4.2.2 Marlin Version_ST MCU |    Download |
| 4.2.2 Marlin Version_GD MCU |    Download |
FAQ
Q:  Can the Ender 3 V2 be upgraded?
A: The Ender 3 v2 is upgraded from the pro. It supports changes to the PEI Build plate, 4.2.7 (TMC2225 silent board), add bl touch and Titan direct drive.
Q:  Ender 3 v2 filament not sticking to bed?
A: Do not stick to the heated bed, the following adjustments are recommended:
1) It may be a leveling problem, please refer to the linked video for leveling. https://youtu.be/4JGLRgsLfHE
2) If the printing speed of the first layer is too fast, it may cause a non-stick bed. It is recommended to adjust the printing speed to 30%-50% of the normal printing speed by rotating the knob when printing the first layer. After the first layer is printed, return to 100% printing speed
3) The soft magnetic sticker/carbon-silicon crystal glass is smooth and non-stick, try to apply solid glue evenly on the glass plate/or stick a layer of masking tape before printing. Please do not use IPA to wipe the glass plate. Organic solvents will destroy the coating on the surface of the glass plate.
Q:What software comes with this product?
It comes with a Creality slicer (Cura)on the SD card,Free to download.
Q: What filiments will work with the printer?
 PLA, ABS, TPU,Carbon Fiber and PETG
Q: Does this have auto leveling or manual leveling?
Manual leveling
Q: How to create multicolor prints as seen in pics others posted?
Exchange the different filament roll in the printing process
Q: Will Ender-3 V2 work with the Creality laser accessory?
Yes
Q: Can I connect this directly to my computer via a cable?
Yes
Q: What voltage do I set my Ender 3 V2 to?
24 volts
Q: What's the precision in terms of milimeter?
Precision is 0.1mm for this printer
Q: Where are the supplies racks installed?
The consumable rack is fixed above the gantry rack, put the consumable rack vertically on it, and it can be used after the screws are locked.
Q: After the machine is installed, why does the platform sway?
Adjust the eccentric nut at the V wheel of the hot bed, if it is too loose, it will shake, if it is too tight, it will stagnate.
Q: What should I do if the Z axis moves after the machine is installed?
After the screw is installed, the screw nut needs to be adjusted to make the axis of the up and down movements consistent to maintain smooth movement.
quick delivery
item was shipped and recieved quickly. packaged well. put together pretty well, only one part was a little hard to work out from instructions but a quick google and al good. thanks Creality. loving the printer.
ender 3 v2
It was very easy to set up . Itwas easy to follow the you tube video for setting up and leveling. the software slicer program could do with a hepl section for begginers but as my opinion it was great to start of with their will be print job errors but its a learning time for being new to 3d printing but have enjoyed what i have done so far and just going to ask about getting upgrade parts like the heavy duty springs for the bed and the fact replacement parts are available and you get them within a few days .
thank you
Great print quality, and fantastic value for money.
This is the third printer in my lineup.
I am printing RC aircraft in single wall foaming PLA.
The Ender 3 V2 far ahead of the other two, both in functionality and final printed result. Fantastic value. I may even buy another to speed up the production process!
Creality Ender-3V2
Disappointingly the heated bed is not flat having a ten thou bow up in the middle of the bed measured with a dial gauge making it difficult to get the first layer down correctly. A new flat bed would be good.
Brilliantly simple
My son and I put this printer together matching the printed instructions with the video unboxing video provided and that was fun enough. All the parts are high quality with a few spare parts and a draw to keep them in. Our first print was of the dog model provided with the kit and that was cute and fun to watch.
Why 4 stars instead of 5? Leveling the platform was tricky at first because it looked like there was too much of a gap to correct - we figured out that all four corners need to be adujsted together to make that work - this little tip could have been useful in the instructions. There is a clip on the printer platform that is not referred to and we're confused whether to keep it on or not. Lastly, we are still trying to work out how to get gcode files. We're getting there and that will be worked out but some tips and pointers on where to go for these would be useful.
But back to the positives, the printer is neat, quality and fun.