© Local AU Warehouse-Fast Shipping Within 3-7 Bussiness Days
© One Year Hassle-Free Warranty & 14-Day Return Service
© 100% Secure Checkout & Lifetime Customer Support
Features:
Wide Compatiblity:
Compatible with CR-6 SE/Ender-3 series/Ender-5 series/Ender-6/CR-10/CR-10S/CR-10mini/CR-10max/CR-10 V2/CR-10 V3/CR-10 Smart/CR-200B/CR-5060 Pro/CR-5 Pro_H.
New Technology:

 

The newly designed MK nozzle is crafted with advanced processing technology, which makes the printing model more smooth and delicate.
More Durable:

 

The nozzle is made of international brass, which greatly helps reduce friction resistance to the filament, promoting smoother filament feed-in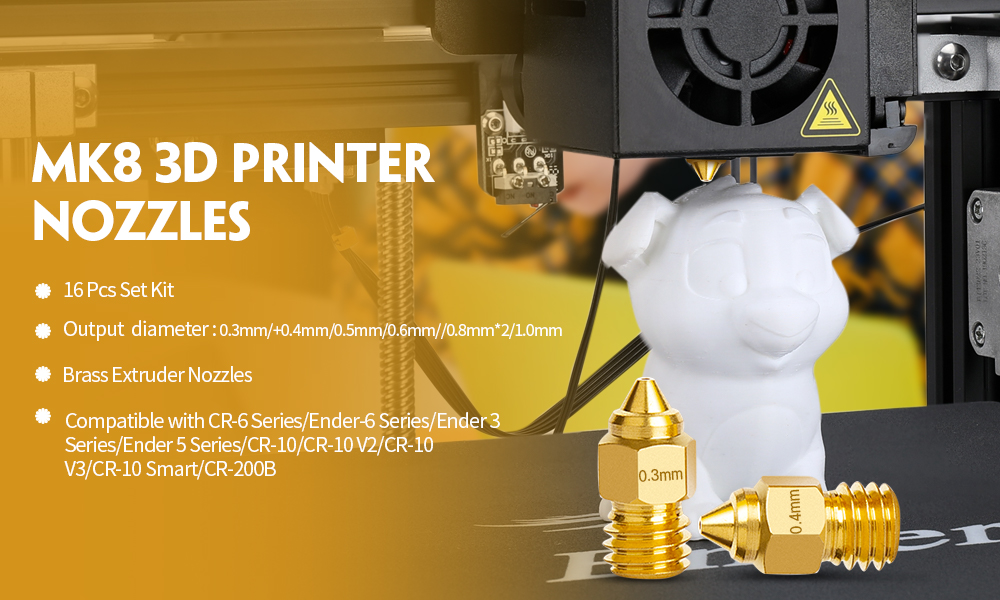 Best Sellers
Fixed adhesion issues
I originally bought some no name generic nozzles. Was having bed adhesion issues I put down to levelling or z issues. Would need hairspray for it to stick.
Bought these and after installing prints sticks perfectly. Using the shiny 'non stick' side of my cr6se glass without any adhesive and the filament sticks almost too well!
Either generic nozzles are total crap, or I coincidentally fixed all levelling issues when installing this nozzle (unlikely as I had gone through multiple nozzle's)